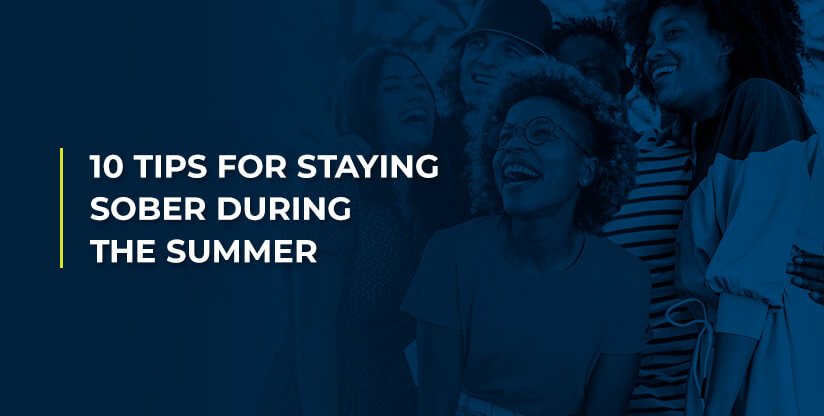 Summertime, with its longer days and pleasant weather, usually means more outdoor events and parties. From pool parties to weddings and backyard BBQs, these events often have one thing in common — alcohol.
While alcohol and summertime socialization may go hand in hand for many individuals, this combination can prove tempting for people recovering from addiction. It can remind them of "the good old days" when they consumed alcohol to party or relax. Naturally, it can make it much harder to continue through rehab or the long-lasting road to recovery.
Because alcohol is more available and harder to avoid during the summer, here are some tips on how to enjoy sober living during the warmer months.
How to Avoid Alcohol During Summer Events
There are many ways you can avoid alcohol and triggers while still making the most of your summer. Below are some of the best summer sobriety tips and tricks to help you sustain your recovery after treatment.
1. Organize Your Summer
Before you take a vacation or start your summer, create a detailed plan that includes all the places you want to visit, what types of environments you'll be in and what items you can bring to help you feel more comfortable. Use this time to reflect on your recovery journey and remind yourself why you chose to get sober in the first place.
Celebrating your past successes and thinking about your goals for the future can help you maintain your summer sobriety.
2. Stay Connected to Your Support Network
Maintaining access to your friends, family members, sponsor or other support network members can help you stay sober in the summer and support you during a difficult time. If you encounter a trigger while you're on vacation, you can call a member of your support network to help you cope.
You might also consider inviting sober friends or family members on your trip. Members of your support network who understand what you're going through will be able to help distract you if you face temptation. Besides, vacations are always more fun when you have loved ones with you to take part in the summer fun.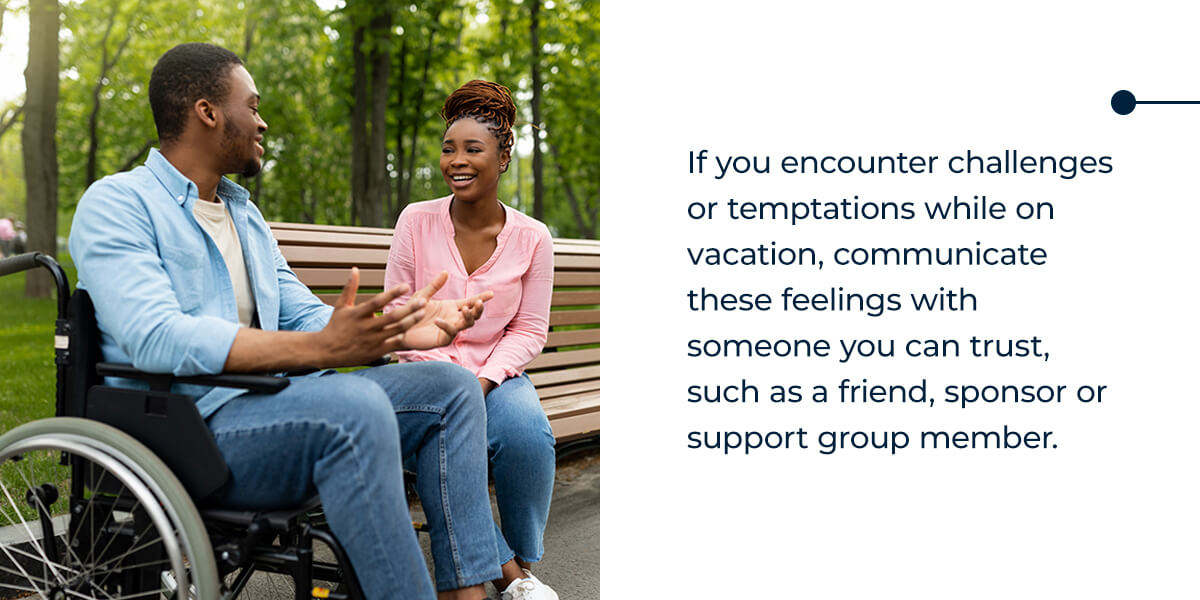 3. Be Honest About Your Challenges
If you encounter challenges or temptations while on vacation, communicate these feelings with someone you can trust, such as a friend, sponsor or support group member. You'd be surprised just how many people can relate to what you're going through. Be honest about your thoughts and feelings when encountering a challenging situation. Members of your support network can help remind you why you decided to choose sobriety in the first place and why you should stay committed to your recovery.
Communicating with others in a support group can also help others experiencing the same challenges. Your honesty will help yourself and others.
4. Be Prepared With Coping Strategies
If you've completed an official treatment program, you're likely equipped with various coping mechanisms to help you overcome your triggers. Create a list of the coping strategies you can use while on summer vacation so you're prepared if you encounter a triggering situation. Coping strategies may include:
Listening to music
Meditation or yoga
Journaling
Exercise
Painting or other creative hobbies
Choose an activity that will help you get your mind off of negative thoughts and calm you down when you feel stressed. If you can get a friend or family member involved, they can provide you with additional support and distraction.
5. Know That Recovery Is a Process
Addiction is lifelong, and there will be times when it feels more challenging to maintain your sobriety. Understand that mistakes happen, and they're part of the recovery process. When you're on vacation or enjoying the warmer months, you might slip up and make a mistake.
Rather than viewing it as a failure, take it as a learning lesson that can help you progress through recovery. Your mistakes don't define who you are, but they can be excellent tools to help you make the necessary changes to become the person you want to be.
6. Volunteer in the Community
Volunteering in your community or while traveling on summer vacation is an excellent way to give back and sustain your recovery. Helping others increases your sense of self-worth, making relapse less tempting. When you volunteer, you also won't be exposed to alcohol or other triggers that could make you uncomfortable.
Try volunteering with a group or organization specializing in something you're passionate about. If you enjoy the theater, you can volunteer to help around backstage for the upcoming show at your local theater. If you love spending time with animals, you can volunteer your time at a local shelter. Choosing something you're passionate about can help you find a new purpose.
7. Host Your Own Event
If you're planning for summer vacation, you may notice that many events, venues or parties involve alcoholic beverages. It can be challenging to be in these environments when recovering from alcohol addiction. Rather than trying to find alcohol-free activities, you can host your own event with sober friends and family members.
You can choose from many activities, such as a pool party, picnic or nature hike. You should plan for your event to be fun and relaxing so everyone can bask in the warm sun and enjoy the summer vacation.
8. Try a New Activity
Now that it's summer, you likely have more free time than usual. Summer is an excellent time to cultivate a new hobby or try something you've always wanted to do, and there are endless options to choose from. Some fun summer activities or hobbies include:
Baking
Reading or writing
Painting
Backpacking
Concerts or festivals
Sports
Finding a new hobby can help improve your mental and emotional well-being while distracting you from your triggers or cravings. Experiment with a few activities or hobbies until you find something you're passionate about, and then dive in.
9. Build New Connections
When you're on vacation and traveling, you may be reminded of friends or memories involved with your past substance misuse. You may be tempted to visit these friends or old places to test your progress. However, it's not worth the risk to your recovery. It's more than okay to decline invites to hang out or attend events that could be triggering.
Instead, you can build new connections while out and about in the summer. Many people are looking for new friends in sober environments. When you try out a new activity or hobby, try to build connections with the people you meet and create new memories.
10. Be Kind to Yourself
Many people struggle with being kind to themselves, even if kindness comes naturally to them when it comes to other people. Remember that you are deserving of compassion and forgiveness, especially from yourself. Take your sobriety one day at a time, and don't be hard on yourself if you experience a craving while traveling or out for a night on the town.
Summer is a challenging time for people in recovery since people often have more free time, and there are numerous events or parties involving alcohol. Stay focused in the present, dedicated to your recovery and optimistic about the future to help you stay sober during the summer months.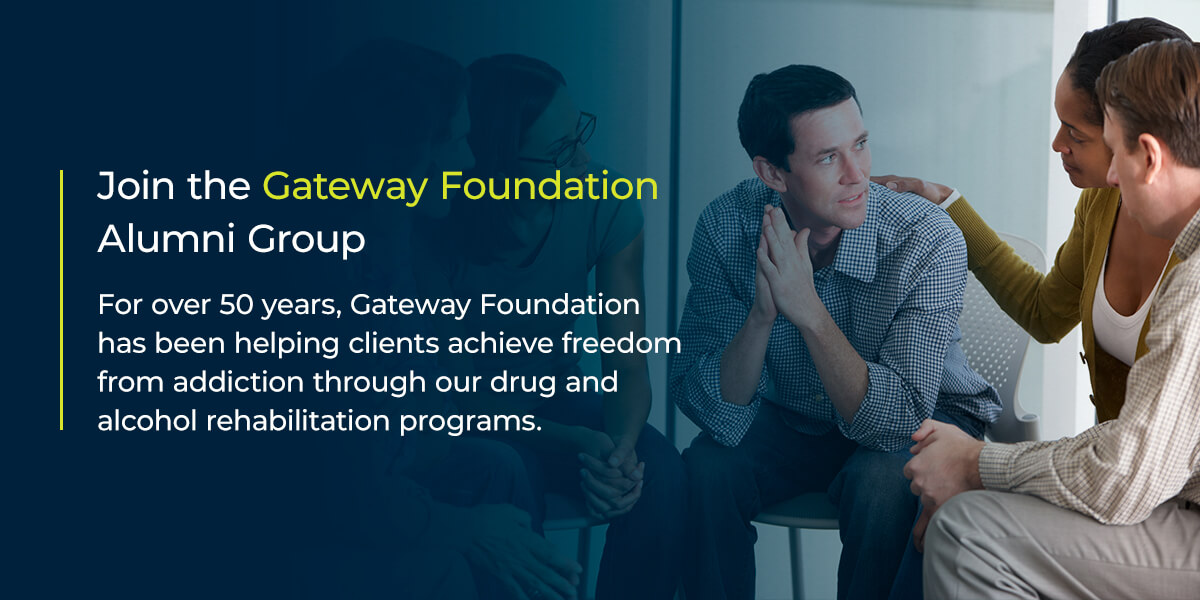 Join the Gateway Foundation Alumni Group
For over 50 years, Gateway Foundation has been helping clients achieve freedom from addiction through our drug and alcohol rehabilitation programs.
Following rehab, joining an alumni group can play an important role in achieving long-lasting addiction recovery — we even have educational programming and social activities during the summer months.
To learn more about our alumni group or any of the treatment programs we offer, please fill out our form, and we will get back to you!