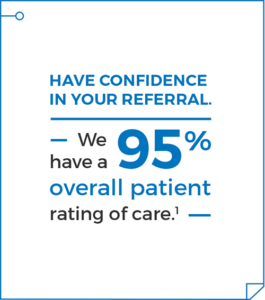 With more than 50 years of experience in treatment and recovery, and more than 1 million patients graduated through our treatment programs, Gateway meets a wide range of patient needs, making us an ideal partner for referring providers.
Evidence-based, science-driven and person-centered, Gateway is proven and trusted to offer highly customized treatment programs for patients at any stage of recovery. With unparalleled expertise and clinical care, we deliver extraordinary clinical and psychosocial outcomes.
Experts in Addiction Medicine, Gateway's team is made up of highly skilled clinical and medical professionals with masters degrees and beyond. Psychiatrists, other physicians as well as nurses, counselors and therapists practice innovative and specialized treatment modalities across a full continuum of care.
Structured for dual diagnosis, trauma, family services and more, our approach to care is evidence-based, but built around patients to stay with them for life.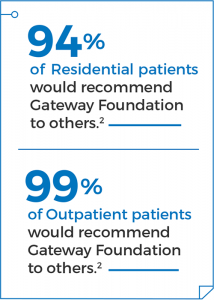 With a wide range of highly effective programs, including Residential with 24-hour nursing care, full- and half-day Outpatient and lifelong care, we can meet a wide range of needs for our patients—in the places where they need them most. Give us a call today at 877-377-2027 to discuss any needs you may have!
Sign up for the Professionals Connections Newsletter
Ideal for referring providers, our Professionals Connections Newsletter contains all the latest news, updates, services and professional resources offered at Gateway Foundation. We value your privacy and will only use this information to contact you regarding information related to Gateway. We will never sell your information to a third party.