Illicit designer drugs are not going away any time soon. Instead, every year it seems some new unheard of substance is making its rounds. It then quickly spreads across the world wrecking communities and killing addiction victims. Every time a new intoxicating substance is created, synthetic drug addiction treatment professionals have to make adjustments. Why? Because each drug causes different problems, and different problems require different approaches to treatment.
Common Synthetic Drugs And Their Dangers
At our synthetic drug addiction treatment centers in Illinois and around the country, we have encountered a bizarre collection of synthetic drugs over the years. We have also seen firsthand what these substances do to our clients. What makes these drugs so bizarre and troubling are the substances that go into making each drug. Many times, the active ingredients plus all the "extra" ingredients result in a potentially lethal combination of substances.
To mask the true nature of these psychoactive drugs, drug dealers come up with some interesting street names. Some common street drugs by street name include the purple drank, spice or K2, Ecstasy, meth, bath salts (monkey dust), N-bomb and aphrodisiac tea. For the most part, these drugs aim to emulate the effects of common drugs like cocaine, heroin and marijuana.
Getting Synthetic Drug Addiction Treatment
Since synthetic drugs emulate various other substances, the first task for a clinician is to determine which drug the client is abusing. This will then help the clinician determine the best course of treatment. If the substance acts as an amphetamine, the treatment program would follow that path and so on.
At our synthetic drug addiction treatment centers, the client might have to go through a withdrawal management program prior to therapy. The hope is this type of program will help get the client safely past their withdrawal symptoms. Most synthetic drug addiction treatment centers in Illinois will use a similar approach.
As the client stabilizes, they should then be ready to focus on counseling and therapy. As would be the case with any other synthetic drug addiction treatment program, therapy serves two important purposes. First, the patient will spend time with their counselors, trying to get at the real causes of the client's addiction. All treatment professionals in our synthetic drug addiction treatment centers understand the importance of identifying causation.
After causation comes to light, the respective parties can then begin working on the client's life skills, the second purpose. The goal is to make sure the client leaves synthetic drug addiction treatment with the coping skills they need to avoid relapses. This is the key to a client staying in recovery.
Gateway – Celebrating 50 Years of Addiction Treatment
In 50 years of services, Gateway has helped millions of clients find recovery. Our nonprofit organization has successfully transitioned through generations of drug abuse, treating addictions to some harsh synthetic substances. We are particularly proud of the work we do at the elite heroin rehab treatment centers Illinois offers. Today, our menu of treatment services includes: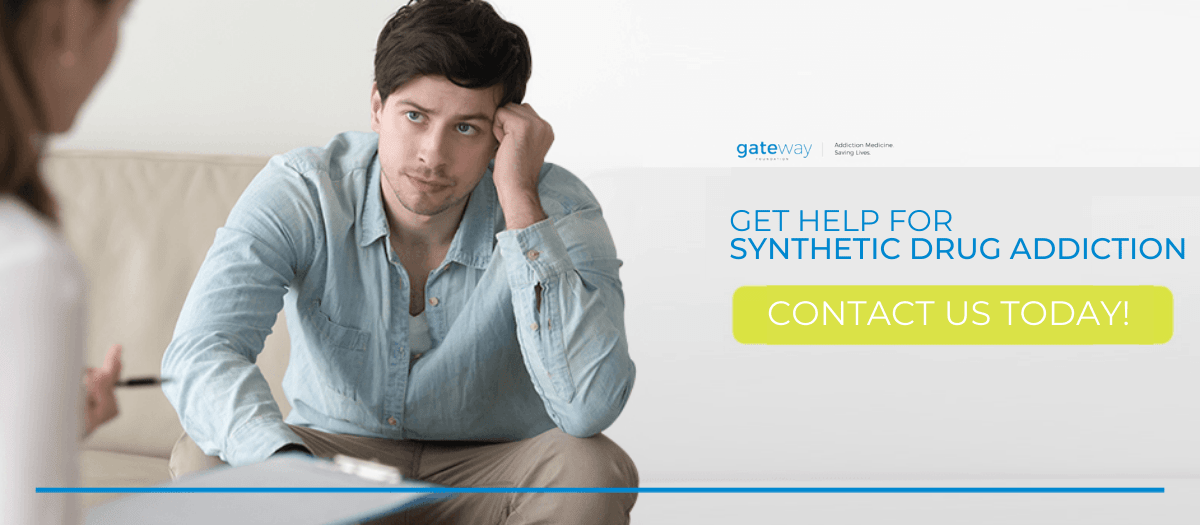 If you have developed an addiction to a synthetic drug, you will likely need help from a specialized synthetic drug addiction treatment facility. Our Gateway treatment centers in Illinois can help with this process. For your part, you need to start treatment by contacting our representative at 877.381.6538. For our part, we will do all we can to help you find the road to recovery.