If you want to get over alcohol addiction, you need the services available at Gateway's alcohol abuse rehabilitation centers. If you are ready to seek help for your alcohol use disorder, you have already started on your journey to recovery. When it comes to the effects of alcohol addiction, identifying that you have a problem and getting a diagnosis is just the beginning. Seeking help is often a hard step to take, but your chances of success are higher when you do.
At Gateway's alcohol rehab treatment centers in Illinois, you can get the help you need through personalized treatment. We boast an experienced, compassionate staff that delivers evidence-based services to help you overcome addiction. Since we believe that addiction is a lifelong illness, we offer a holistic-based approach to healing. We focus our services and therapies on healing the mind, body, and spirit.
Why You Should Seek Alcohol Addiction Services
You can attempt to overcome alcohol addiction on your own, or with the help of a friend or relative. However, the chances for success are greater when you seek professional help. At alcohol rehab treatment centers you can expect assistance and guidance through all the stages of your recovery. And statistics show that this professional help yields greater, permanent success.
In alcohol rehab treatment centers in Illinois, you are held accountable and motivated to stay on track to sobriety. You benefit from the resources available in our facilities while you learn the skills to cope in real life without alcohol. Support is also an essential aspect of recovery. At our facilities, you can count on support from Withdrawal Management through Residential or Outpatient treatment, aftercare, and Alumni Engagement programs.
What You Gain from Getting Help For Alcohol Abuse
The goal of alcohol rehab treatment centers in Illinois is to help you change the way you enjoy life and help you find other ways to fill your life without alcohol. Because each client is different, their road to recovery is different. So our staff works with you to develop a personalized treatment plan with your needs in mind. Perhaps you are able to focus entirely on recovery and attend Residential Treatment. However, not everyone is able to do this, so maybe what you need is the help found in Outpatient alcoholism treatment centers Illinois trusts. With Outpatient Treatment, you can continue meeting work, school, or family responsibilities while getting the help you need.
Additional Alcohol Addiction Programs
Because overcoming alcohol addiction is something that lasts much longer than a 30-day stay at a facility, we also offer an Intensive Outpatient program. This includes both therapy and educational workshops to help you prevent relapse. While some patients choose to complete aftercare at a sober recovery home, others choose to continue with Outpatient services, even after completing Residential Treatment. We also offer support beyond this stage, through our Alumni Engagement program, where we provide you with opportunities to remain involved and focused on recovery. Because a personal support system is central to maintaining sobriety, we also involve family members through Family Therapy and other activities designed to build and repair interpersonal connections.
Where to Find Evidence-based Services to Help You Overcome Alcohol Addiction
A quality rehab program provides a wide range of evidence-based services that have been proven to work over time. Our alcohol rehab treatment centers offer personalized care using a combination of these evidence-based services, including: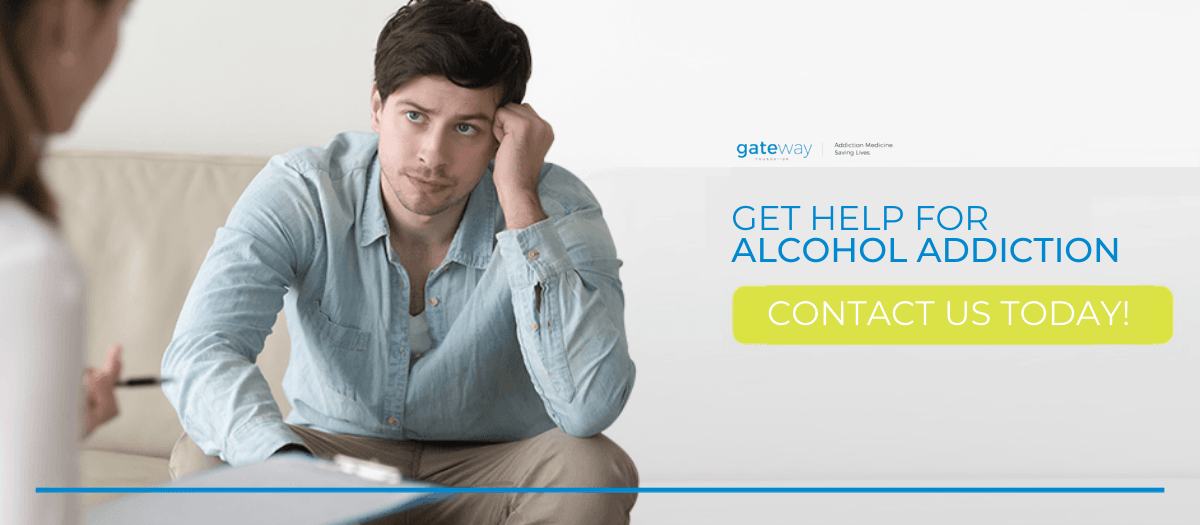 Accepting you have a problem with alcohol abuse is just the beginning of your recovery journey. Seeking help is an important step that you need to take. Do it now at our alcohol rehab treatment centers. Call Gateway today at 877.505.4673 and access the support you need to get healthy and sober.