Prescription drugs have their place in the medical world. Unfortunately, many people abuse their prescription drugs, leading to addiction. Prescription drug abuse treatment centers are available around Chicago, however, and it can help patients fight back against drug dependence. At Gateway, treatment includes a comprehensive combination of holistic therapies, medical care and evidence-based treatment methods.
Evaluating the Client
At Gateway, the very first step in prescription drug abuse treatment is an evaluation. All treatment plans are customized to the needs of the individual. Therefore, all incoming clients go through an assessment so we can learn more about their health, their history and their needs during recovery.
A physical exam may be required, but this is just the beginning. An evaluation will also include an oral interview to learn about past drug abuse habits, dosage and concerns. Patients should also feel free to voice their own worries or preferences. What gets uncovered during the intake evaluation can set the tone for the entire recovery process.
Our intake evaluation dictates the kind of program customized for our patients. Clients with severe drug addictions will need Residential Treatment so they have access to 24/7 medical support. Other clients with less severe addictions as well as a support system at home might do better in Outpatient programs.
Addressing Any Underlying Health Issues
There are many different reasons that clients struggle with prescription drug abuse. In some cases, patients first experienced a medical issue. For example, chronic pain might lead to the overuse or abuse of prescription opioids. Similarly, those with depression might become reliant on benzodiazepines.
Factors like chronic pain or depression can't be ignored. While breaking free from addiction is essential, it won't last if the underlying issues never get resolved. At prescription drug abuse treatment centers like Gateway, clients should expect treatment that addresses health issues as well as addiction.
Thanks to drug addiction treatment centers, clients become healthier, stronger individuals. As a result, they will be better able to overcome drug addiction and maintain their sobriety in the face of potential temptation and triggers.
Finding New Coping Mechanisms
Prescription drug abuse treatment should help patients find new coping mechanisms. Temptations and cravings won't disappear just because a rehab program ends. Clients need to develop ways to cope with stress or discomfort in a way that won't sabotage their recovery.
One way to do just that is by finding a new passion or rediscovering an old hobby. Other clients might find that physical exercise, yoga or meditation can be a means of stress relief. Also helpful is building addiction recovery support groups.
During Group Therapy, clients can lean on their peers and learn from one another. Prescription drug abuse treatment centers will include plenty of Individual Therapy, but Group Therapy can often be just as instrumental to the healing process. Clients can also incorporate their families into treatment. At prescription drug abuse treatment centers like Gateway locations, Family Therapy programs are readily available to clients.
Planning For a Lifetime of Sobriety
Prescription drug abuse treatment shouldn't end abruptly. We design our treatment to help clients transition away from a structured environment and into an independent and sober way of life.
To help facilitate a lifetime of sobriety, it helps to prepare clients through related prevention training. Also helpful is our 12-Step Facilitation program. A 12-Step Facilitation program introduces clients to a supportive recovery program. Local meetings are never far away from home communities. Getting familiar with the program's structure can set clients up to continue with their recovery for years to come.
What to Expect From Prescription Drug Abuse Treatment at Gateway
Clients receive customized prescription drug abuse treatment at Gateway, and there are several rehab programs to choose from. There are also many locations in and around the Chicago area, as well as flexibility so that our Addiction Treatment programs can suit your schedule. At each of Gateway's prescription drug abuse treatment centers, you can expect therapies such as:
Dialectical Behavioral Therapy
Family Therapy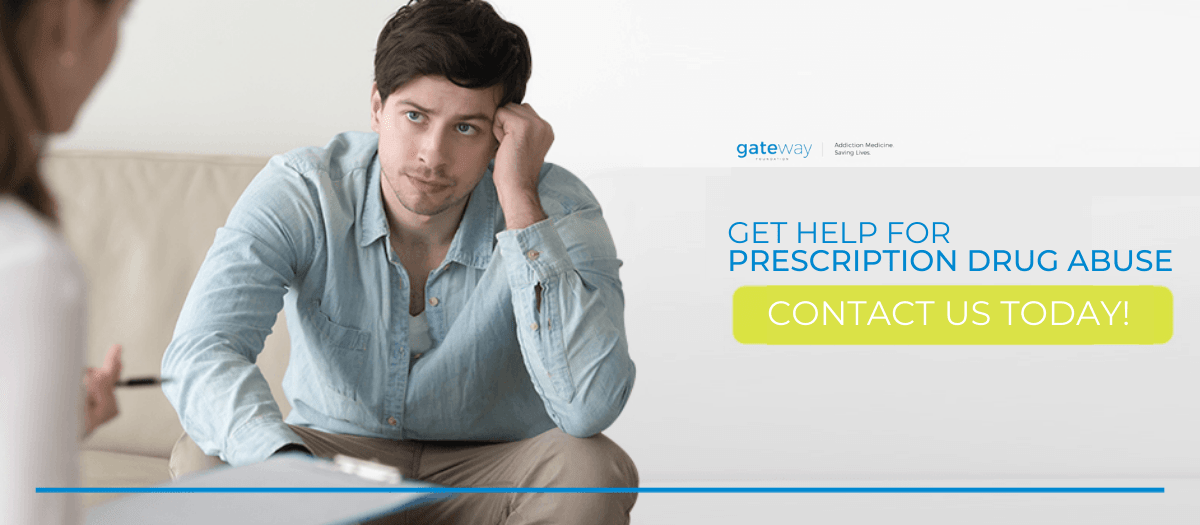 If you're ready for prescription drug abuse treatment, then turn to Gateway. With over 50 years of experience, Gateway has helped more than one million people fight back against addiction. End your reliance on prescription drugs and call 877.505.4673 today.