Inpatient rehabilitation treatment (also called residential treatment) isn't always required to overcome addiction. If you don't have severe physical, mental or emotional challenges due to substance misuse, regular attendance at an outpatient program can help you reach recovery. However, if a substance use disorder is severe, inpatient treatment is often necessary.
Inpatient treatment can help you or a loved one detox from drugs or alcohol and prevent relapse. If you're considering an inpatient treatment center, continue reading to learn how to choose the right facility for you.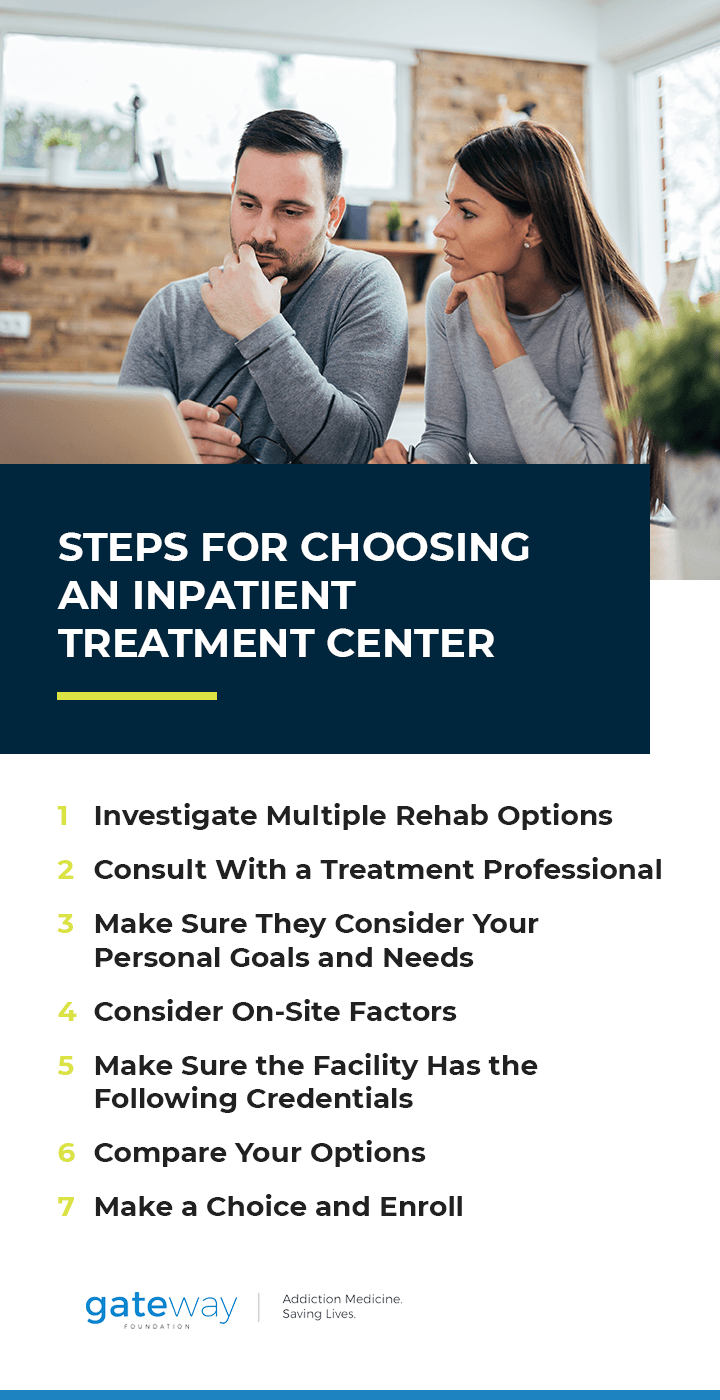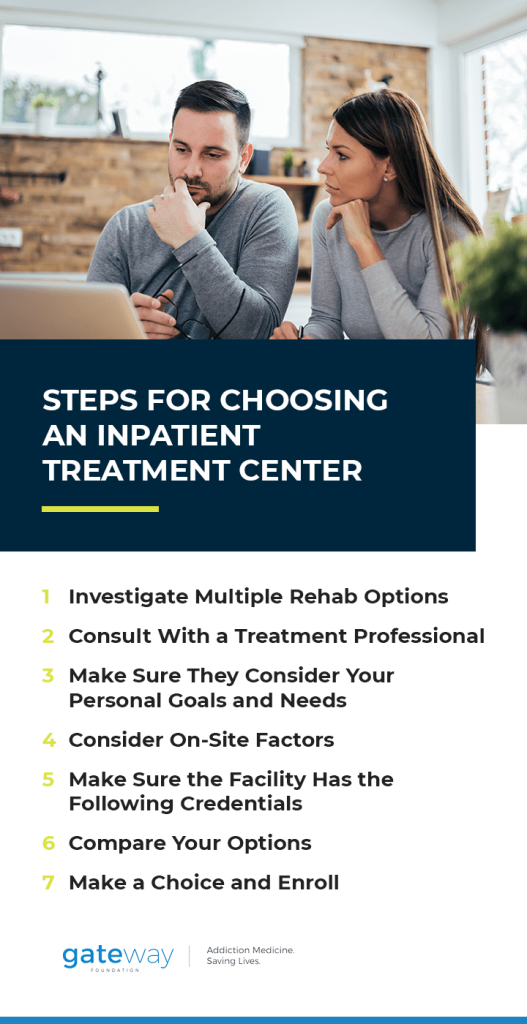 Steps for Choosing an Inpatient Treatment Center
If you've decided to seek recovery, whether it was on your own or with the encouragement of friends and family members, there are a few steps you can follow to help you find a treatment center that addresses your unique circumstances:
1. Investigate Multiple Rehab Options
If you're looking into a rehab program for the first time, you might be surprised to learn how many options are available. Treatment facilities often have various levels of care to suit your individual needs, including:
It's also essential that a rehab facility offers mental health services since these conditions often play a significant role in addiction. If a facility provides dual-diagnosis or treatment for co-occurring disorders, they're better equipped to treat the underlying cause of substance use disorders and facilitate a successful recovery.
You can look online for a treatment center that fits your criteria, but be cautious of what they're promoting. If a treatment facility promises a cure to addiction, it's likely too good to be true. Addiction is a lifelong disease, and there is no cure. However, there are various ways to manage addiction and lead a fulfilling life.
If a facility focuses more on their comforts, such as yoga or dieting, than their treatments, they might not be a good fit. While things such as yoga and dieting can help with treatment and encourage a healthy lifestyle, there is no evidence showing that they effectively treat the root of an addiction.
Some advertisements for treatment facilities will also claim to offer treatment in your area despite not having a location anywhere within your vicinity. There are so many addiction rehab facilities with multiple treatment options that you'll be able to find one close to home. There's no reason for you to take a trip to another state to find quality care.
Consider reading reviews and stories on the treatment centers you find. If you see multiple negative reports and reviews, be cautious of the facility and its programs. These reviews and stories exist for a reason and it's worth taking the time to go through them to get a good picture of their offerings, previous patient wellness and their overall success.
2. Consult With a Treatment Professional
The number of options you'll find can be overwhelming on your own. You can talk with your primary doctor or another treatment professional to find a rehab facility that offers what you need. These professionals know of many quality facilities and can connect you with a rehab center that provides everything you need. They'll help you find a match based on your substance misuse and unique circumstances. If you're looking for suggestions based on your medical needs, they can tell you what to look for in a treatment center to facilitate a successful recovery.
A treatment professional can even help you create a treatment plan. They might recommend inpatient treatment to assist with detox and facilitate recovery in a sober environment, or they might recommend a specific outpatient program so you can keep up with your personal and professional responsibilities.
3. Make Sure They Consider Your Personal Goals and Needs
Your personal goals and needs vary based on your substance use disorder and individual responsibilities. Be sure that the treatment center you're considering will be able to meet each of your goals and needs. If you're struggling with substance misuse and mental health, the facility should treat co-occurring disorders. If you need assistance with withdrawal symptoms, look for a facility that offers medically-assisted detox.
Facilities that offer individualized treatment programs are an excellent way to ensure you get the care you need. They'll create a treatment plan that addresses the underlying cause of your substance misuse, teach healthy coping mechanisms and make recommendations for aftercare programs to help you even once official treatment has ended. These programs might include support groups, specific 12 step programs or a sober living home.
You also want to look for a treatment facility that targets your specific substance use disorder. Some facilities only focus on alcohol abuse, while others offer multiple levels of care. The treatment facility should list what they treat on their website. If you're having difficulty finding a program that provides treatment for a specific substance, you can talk with your doctor or a treatment professional to find a program near you.
Many people will seek out a treatment program that takes their insurance. Some programs will accept most insurance, while others may be more selective or won't take insurance at all. You should be able to find insurance information on the facilities website, or you can talk with your insurance provider for programs in your network.
4. Consider On-Site Factors
Various on-site factors will affect your decision. You'll want to determine what treatment facilities offer on-site. Some rehab programs provide specific services at different locations. While they may state that they provide one type of treatment, it may be at a location that isn't close to home or in another state. They may also offer certain services online rather than in person. If you're considering inpatient treatment, the length of your stay will vary based on each facility.
Facilities will have various amenities, such as high-quality residential spaces that rival five-star hotels. Others are simplified but still provide quality services to help patients reach recovery. Some rehab programs will offer additional activities while you're staying with them, including yoga, hiking and other outdoor activities. These activities promote healthy coping mechanisms and improve the quality of life. If you're interested in any additional amenities as part of your recovery process, investigate each treatment center you find to see what they offer.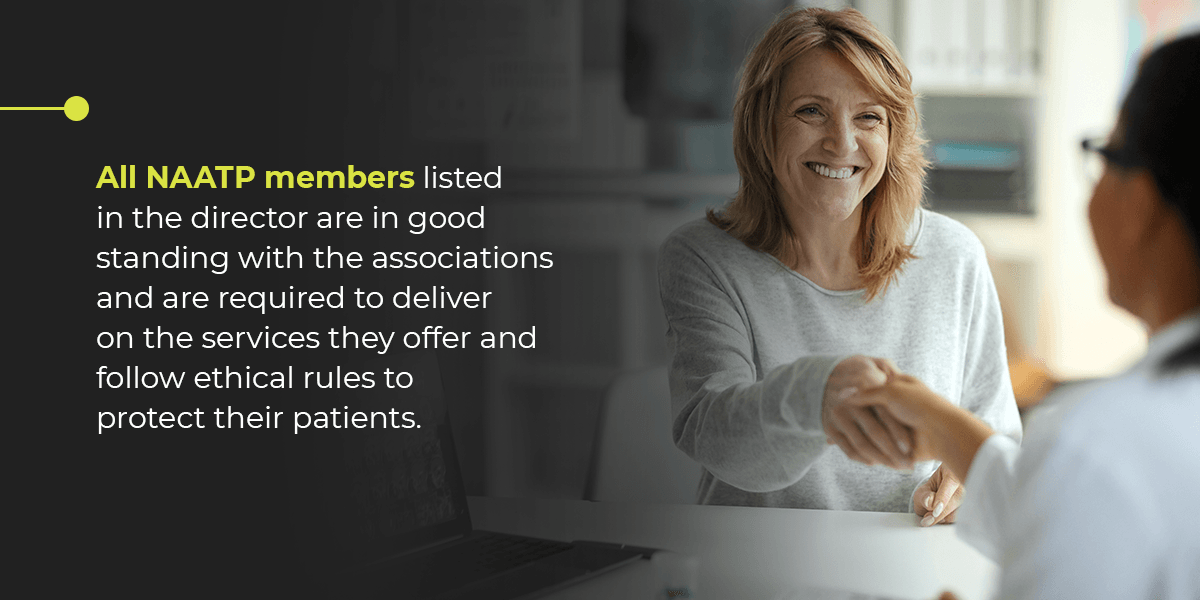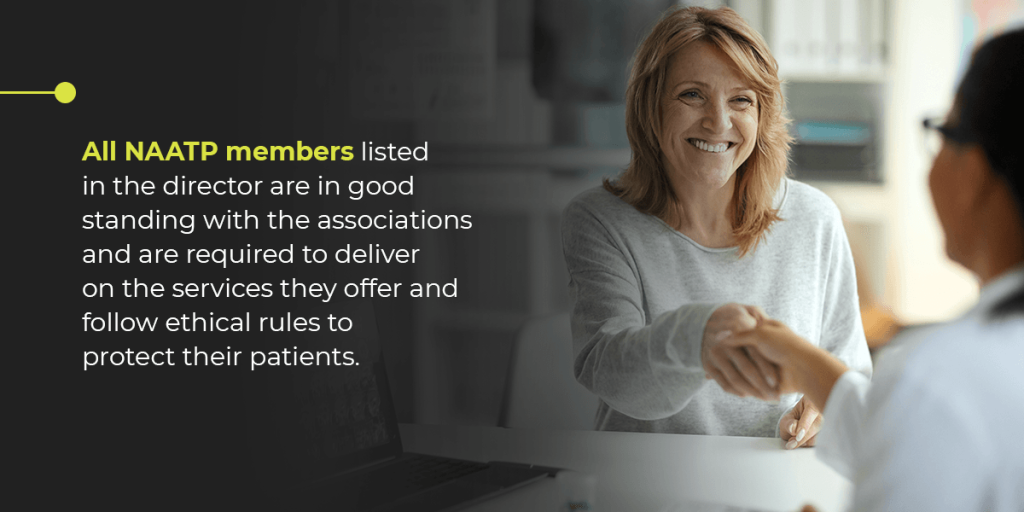 5. Make Sure the Facility Has the Following Credentials
Ensuring the facility has the proper credentials will help you determine the quality of treatment you'll receive. Firstly, the staff and facilities should be licensed and credentialed. Accreditation for staff may include Licensed Alcohol and Drug Counselor (LADC), Certified Co-occurring Disorders Counselor (CCDP) or Certified Addictions Counselor (CAC).
The staff should include a mix of professionals that will assist in creating an individualized treatment program. If one step member is filling multiple roles, it's vital to practice caution and look for the licensure of credentials of each staff member. A team at a rehab facility usually consists of:
A substance misuse and spiritual care counselor
You can also check the National Association of Addiction Treatment Providers (NAATP) directory for quality treatment providers. All NAATP members listed in the director are in good standing with the associations and are required to deliver on the services they offer and follow ethical rules to protect their patients.
When looking for a treatment center, determine if they offer evidence-based treatment. These are treatment programs founded on evidence-based research and are proven effective at treating addiction. Also, look that the facility and providers have leadership experience, plenty of time in the business and a continuum of care.
Now that you've collected a list of your options, compare what they have to offer against what you need. It's best not to settle for the first facility you find as there are many options out there with various programs, services and amenities.
You may need more intensive care and inpatient treatment, meaning you'll want to choose an option with a heavy focus on inpatient care. If you're looking for support groups, select a facility that offers 12-step programs or group therapy programs.
You'll also want to weigh the costs of each facility and whether or not they take insurance. Some facilities will cost more based on their location, services and the length of your stay. Others are covered by insurance and offer various programs and services.
7. Make a Choice and Enroll
Once you've compared all of the facilities and their programs, choose the one that suits you best. You may not find a facility that has everything you want to every last detail, but you'll be able to find an excellent facility that can guide you down the road to recovery.
Every facility will have different policies and procedures to enroll in its programs. They'll provide you with the appropriate information, and you may be able to enroll over the phone. Be sure to carefully review and follow the enrollment procedures to ensure your success.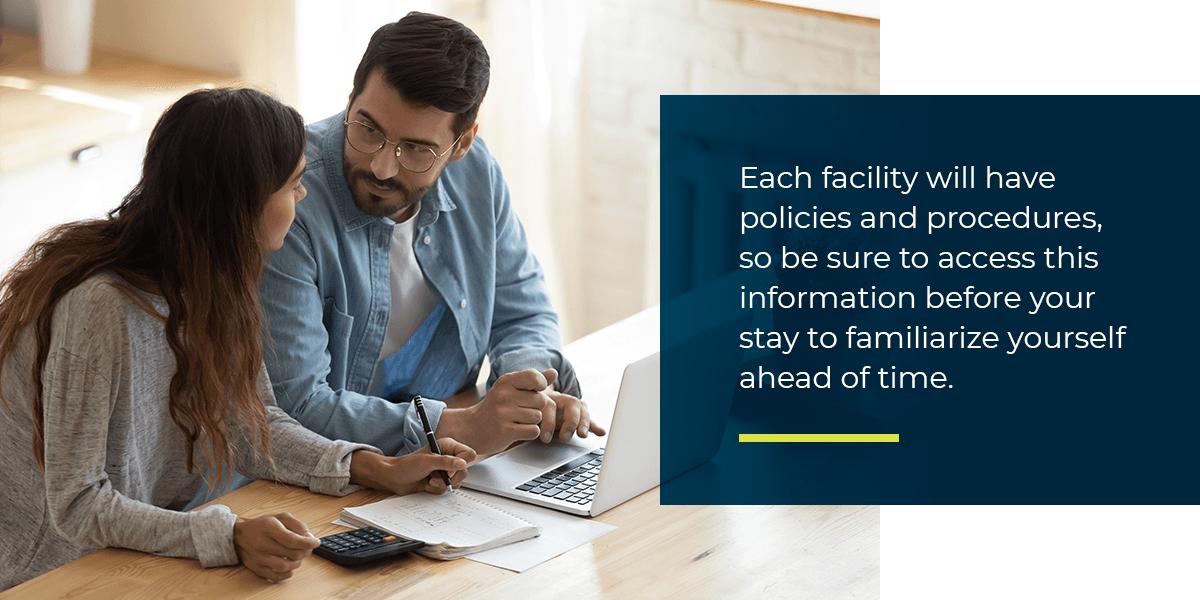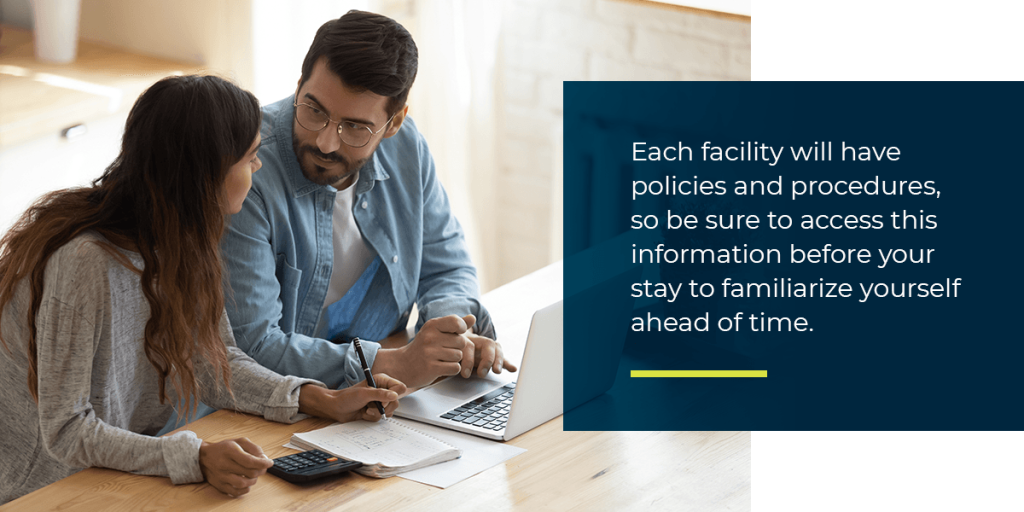 What to Expect After Choosing an Inpatient Treatment Center
Once you've chosen an inpatient treatment center, it's time to start your treatment. You can expect a few things at an inpatient center, including 24-hour support every day of the week. Constant supervision will eliminate the risk of relapse during your stay and limit distractions from home. You'll be in a sober and safe environment with access to medical staff when you experience uncomfortable withdrawal symptoms or cravings. You'll also have access to withdrawal management services, which include the use of medication to make detox more comfortable.
The constant support will give you and your family peace of mind during your stay. You'll be able to rely on medical staff to help you, whether you're struggling with withdrawal symptoms in the middle of the night and can't sleep or finding yourself more irritable than usual throughout the day. The staff is dedicated to making your transition into sobriety as comfortable and safe as possible.
Instead of commuting every time you participate in treatment, everything you need will be in one spot. All programs and services will be available to you, including:
Group, individual, and family counseling

12 step facilitation and support
You'll be participating in various activities during your stay that will treat the underlying cause of your substance misuse. You'll also learn healthy coping mechanisms to manage stress and prevent future relapse. During your visit, you'll learn about addiction, the effect it can have on your life and how you can overcome it. Every activity is monitored by a professional to ensure the safety of each patient.
You can also expect structure during your stay. The structure will require you to make fewer decisions each day, limiting the chance of relapse. You'll also be developing healthy habits that will be useful once you finish inpatient treatment. These healthy coping mechanisms will make it easier to stay on track and influence positive lifestyle changes.
You'll need to bring a few things along when you start treatment at an inpatient rehab facility, including:
Personal attire: Pack personal clothing, including comfortable shirts, pants, workout clothes, pajamas and a jacket.

Personal items: Personal items will help you feel more comfortable during your stay and include basic hygiene items, lotion, makeup, makeup remover and hair gel.

Optional items: You don't necessarily have to bring these items, but they can make you feel more at home at the treatment center. Optional items include headphones, sunglasses, notebooks, pens and cash.
Gateway Foundation provides a few items to simplify the transition. We provide sheets, pillows, blankets, towels, washcloths and laundry detergent. Certain items aren't permitted within the facility during inpatient treatment, including recording devices, food items, devices with an internet connection, alcohol-based products and inappropriate books.
Each facility will have policies and procedures, so be sure to access this information before your stay to familiarize yourself ahead of time. You should be able to find the information online or with the help of a staff member. Following these procedures ensures your safety and facilitates a successful recovery.
Choose Gateway Foundation for Inpatient Treatment
Choosing the right inpatient treatment center for drug or alcohol addiction can seem overwhelming with the numerous options and treatment programs available. The best way to find a quality treatment center is to conduct thorough research, consider your needs, check the credentials and compare your options. Once you've collected all of your options, narrow them down and make a final choice.
Gateway Foundation offers inpatient treatment in multiple locations across Illinois. Our programs and services use evidence-based research to facilitate a successful recovery. We're dedicated to helping you overcome addiction and get your life back on track. We're with you every step of the way. Contact Gateway Foundation today to learn more about our inpatient treatment program.