Aug 17

Addiction

Treatment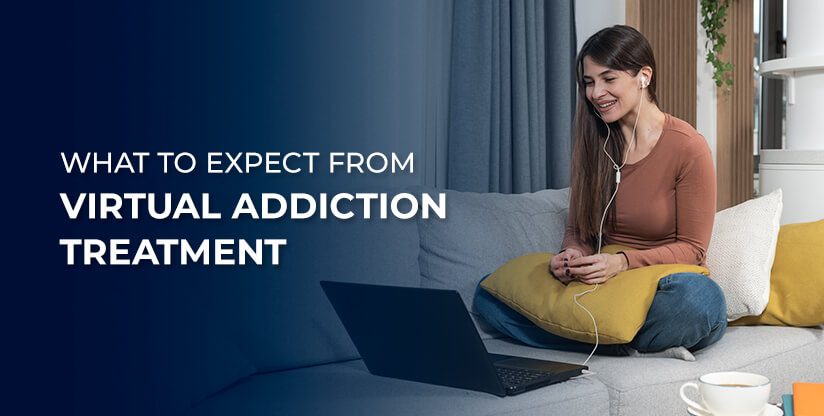 Addiction treatment plays a critical role for those with substance use disorders, but only a small percentage of individuals who need treatment receive it. Common barriers to in-person treatment include a lack of nearby providers or facilities and the inability to leave home due to family or job-related duties.
Fortunately, researchers have found evidence suggesting telehealth treatment is equally effective for patient retention and treatment satisfaction. Many patients express a preference for virtual appointments' flexible scheduling options and easy attendance. One survey found the majority of surveyed patients participating in a telehealth substance use disorder outpatient treatment program were either "satisfied" or "very satisfied" with the quality of care received.
Virtual Addiction Treatment With Gateway Foundation
More and more substance use treatment facilities are starting to offer telehealth services, with an almost 30% increase between 2017 and 2020. Gateway Foundation is proud to be among those offering comprehensive virtual addiction treatment programs. Here's a look at what you can expect with our virtual programs.
Individualized Evidence-Based Curriculum
At Gateway Foundation, our medical assessments and treatment programs focus on more than just your physical health. Our individualized treatments draw from science and evidence-based care, and we build out each program to fit your unique needs and goals. Your program may include additional holistic treatments, trauma and family services or diagnosis and treatment for any co-existing disorders.
Everyone's road to substance use disorder is different, and effective treatment accounts for those differences with customized care. We'll help you fill out a complete assessment to get a better idea of your situation, struggles, triggers, stressors and support. Sessions are interactive and take place in real time, so you get the same engagement and support as you would in any of our facilities. Depending on your needs, your curriculum might include a combination of individual and group therapy, creative recovery and Medication-Assisted Treatment (MAT).
Our virtual alcohol treatment and substance use disorder program is for anyone seeking a more accessible and convenient solution, such as those with family obligations or constraints that make travel difficult. You'll also get access to our 24/7 app, Gateway Connect, with features like:
Support from alumni and peers

Social activities and events calendar

Access to helpful external resources
Gateway Connect is compatible with your smartphone or tablet and accessible from wherever you are, whether that's your bedroom, home office or on the go.
We know how challenging it can be to balance regular treatment with other responsibilities, like family, work or school. That's why we built our virtual program around an adaptive approach to help you stay committed to recovery. Program slots are available throughout the morning, afternoon and evening, and our compassionate experts will work with you to create an ideal recovery timeline.
Program lengths vary according to your needs, including any co-occurring disorders that may influence your addiction or recovery.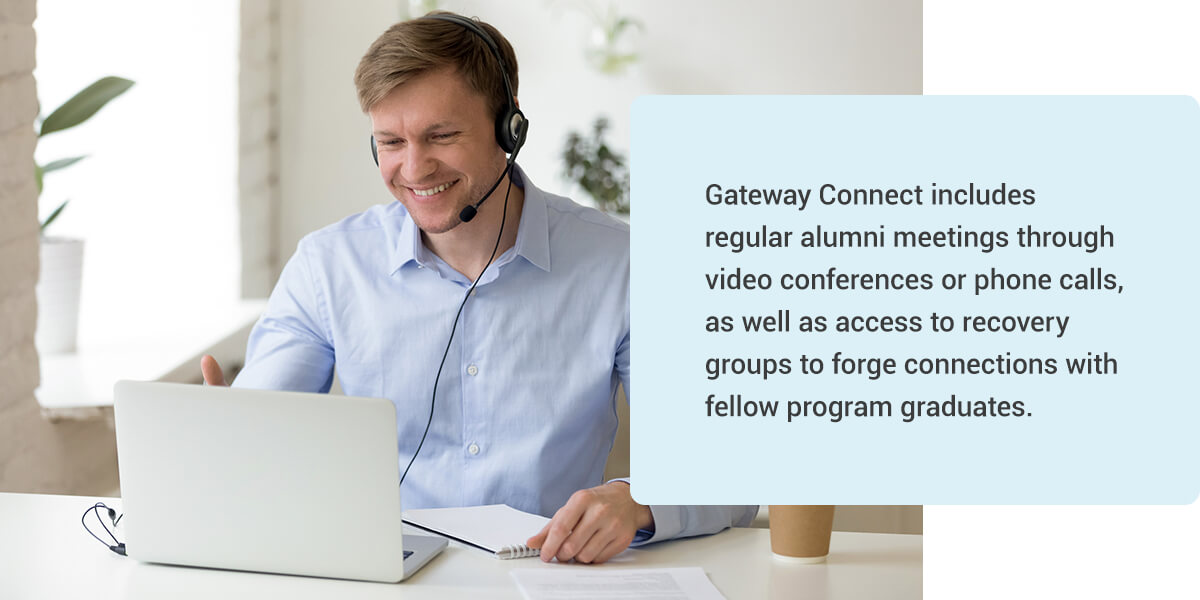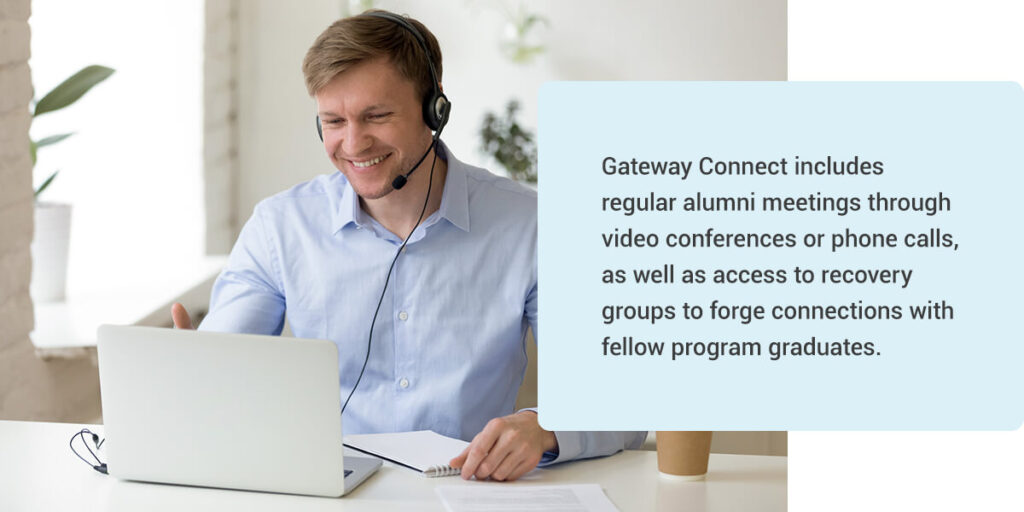 Support and Alumni Resources
Virtual treatment doesn't have to mean missing out on the strong recovery network patients build through group sessions and inpatient care. Gateway Connect includes regular alumni meetings through video conferences or phone calls, as well as access to recovery groups to form connections with fellow program graduates. Connecting with staff and program alumni can help you:
Make a smoother transition into post-treatment life

Get encouragement from people who share your struggles

Get inspiration and insight from others' stories

Give advice and insight to others on a similar journey as you

Practice your relapse prevention skills

Celebrate victories and milestones with one another
These resources are especially helpful for those enrolling in a virtual treatment plan, as they let you balance convenient attendance times with building lifelong relationships. Our substance use disorder programs also include resources for your rehabilitation aftercare that starts the moment you complete your treatment plan, designed to help you maintain your progress and seek additional support if needed.
Part of delivering comprehensive, evidence-based treatment is knowing when you need medication assistance. Not every patient will need medication, but many find it a key part of recovery.
Our team works with you to create a non-addictive medication plan that supports your short-term and long-term recovery goals. A carefully curated medication plan can help ease cravings and withdrawal symptoms or manage underlying conditions that contribute to your addiction.
After helping more than one million graduates complete our treatment programs, Gateway Foundation knows what quality care should look like. We carefully hand-pick each member of our team based on their credentials, qualifications, experience and compassion for our cause. Many of our addiction experts have gone on their own recovery journeys and have first-hand knowledge of the patient experience.
Virtual Addiction Rehab — Your Next Steps
If virtual addiction treatment sounds like the right fit for you, you can schedule a free and confidential assessment today by calling 877-377-2027 (HOPE). The assessment is a quick and easy way to see if our program is the right fit for your recovery goals and treatment needs, and you can choose not to continue beyond the assessment.
You can streamline the process by having the following on hand:
Your insurance information

The name of your current therapist or counselor, if any

A list of current medications

A description of your substance use and any medical or mental health issues
What to Expect During Your Virtual Rehab Session
If your assessment determines that Gateway Foundation's virtual treatment program is the right move for you, you'll only need a few things to get started:
A stable internet connection

A smartphone, computer or tablet connected to the internet

A webcam or smartphone camera

An external or internal microphone

A private, quiet environment where you feel comfortable
Our virtual platform is safe, secure and HIPAA-compliant. Individual sessions will be one-on-one with a licensed substance use disorder counselor, while group sessions will include other program participants. Your facilitator will note who is involved, but you are free to share as little or as much as you're comfortable with the group, including limiting your video and audio access if needed.
Get Addiction Treatment From the Comfort of Home
Living with a substance use disorder can keep you from being the best version of yourself. Addiction treatment helps you overcome your struggles, identify the root of your addiction and find a place of recovery and peace.
Whether you're seeking convenient virtual help from the comfort of your own home or more intensive inpatient support, Gateway Foundation is here to help you get what you need. Don't let another day go by struggling with addiction. Reach out today to explore your options for treatment and recovery.