Aug 12

Addiction

Treatment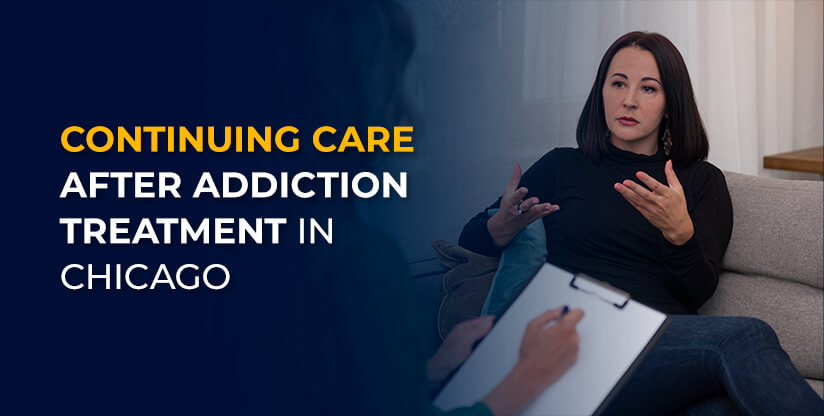 Addiction recovery lasts long after the initial treatment, which means your care must continue as well. Returning home can be a harrowing experience — the challenges and struggles you faced before may still be there, along with the memories of your previous substance use. We've assembled this guide to help you find the continuing care you need as you adjust and adapt to your new sober life.
Addiction treatment occurs in two main stages. The first stage involves detoxification and withdrawal management during either inpatient or intensive outpatient treatment. In the second stage, you begin continuing care — the range of outpatient addiction treatments that support your ongoing recovery. As you move through continuing care, you'll work toward goals like:
Maintaining the progress you made in your initial treatment.

Building confidence in your ability to maintain your recovery.

Improving your quality of life.

Building healthy social ties.
Both stages are essential to your recovery. In the first stage, physical and psychological withdrawal management services help you adjust to your brain's new chemical balance. That initial distance from your addiction is crucial to let you take the next step on your recovery journey.
While the first stage is often more intense, the second can feel every bit as grueling. Recovery is an ongoing process, which makes it crucial to find continuing addiction care support that works for you. There may be times when your recovery feels like a heavy load to carry, but you never have to carry it alone.
4 Chicago Continuing Care Options After Addiction Treatment
Your counselors will work with you to develop an effective treatment plan, including the continuing care you'll receive after your initial treatment. As you choose the continuing care that will offer you the most support, consider these five options.
1. Therapy and Counseling
Even after detox has helped you move past your physical dependence, you still need to learn how to manage your mental, social and emotional triggers. Stress, peer influence and even visiting places you associate with substance use can spark cravings that could lead to relapse.
With therapy and counseling, you can learn to identify your triggers and develop coping skills to help you withstand cravings. Different types of therapy work better for different people, and you'll have the most success with the one that fits your personal needs. Consider these options as you move through recovery:
2. Medication-Assisted Treatment
If you experience exceptionally challenging withdrawal symptoms, you might already be familiar with Medication-Assisted Treatment (MAT). In some cases, adding MAT to other continuing care approaches can offer additional support to help you maintain your sobriety and prevent relapse.
Certain medications can block a substance's intoxicating effects or even create unpleasant side effects, helping reduce its appeal. Others work by reducing cravings or convincing your brain it's still experiencing a substance's effects even when you aren't using it. While MAT is only one part of a larger picture, it may be able to help you maintain your progress toward recovery.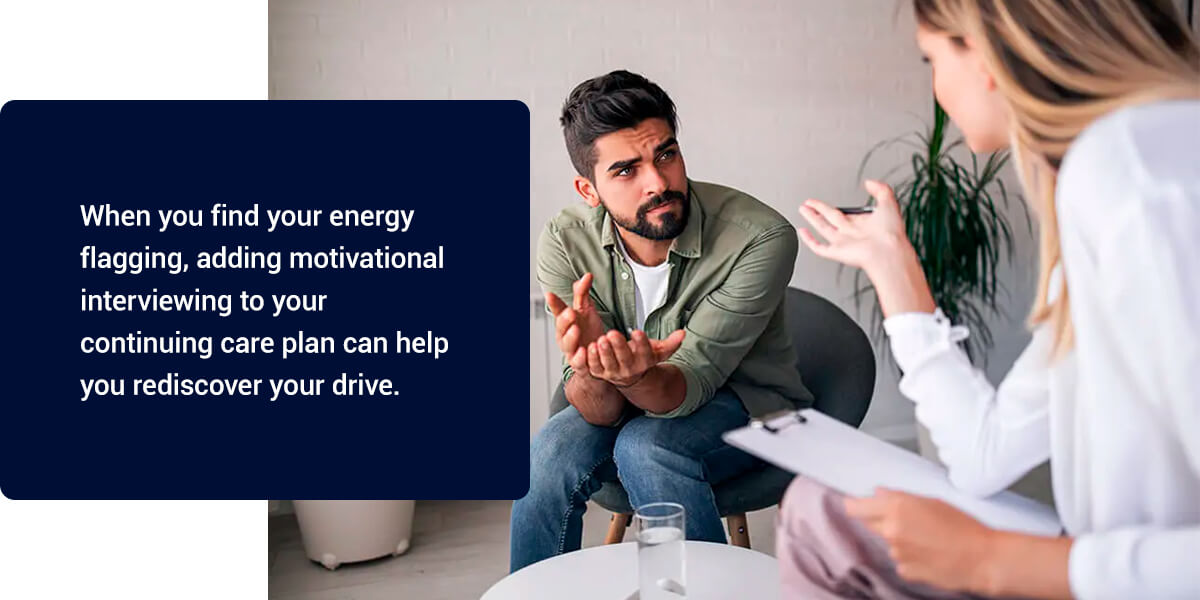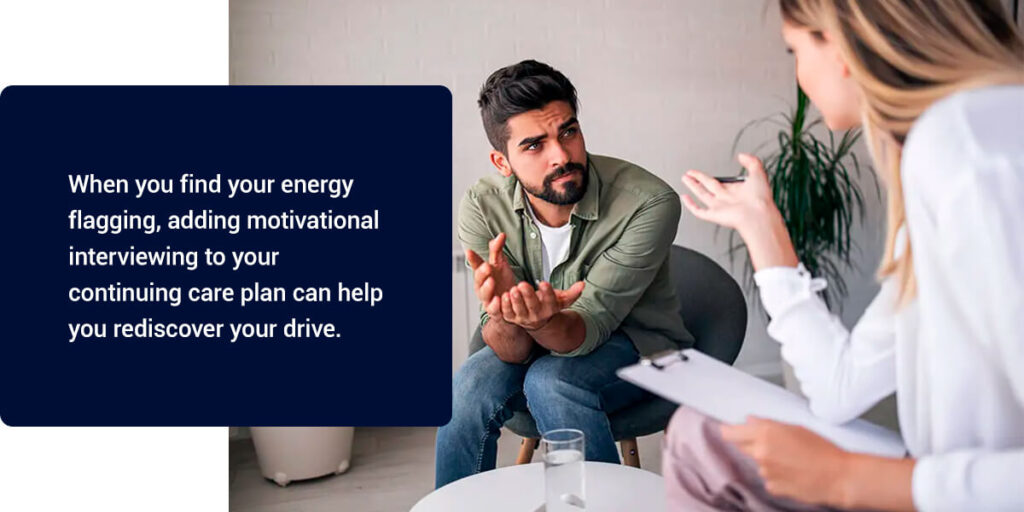 3. Motivational Interviewing
Recovery is an ongoing process, and the truth is it's never really over. Even people who begin treatment ready and eager to change may find themselves struggling to maintain their motivation. When you find your energy flagging, adding motivational interviewing to your continuing care plan can help you rediscover your drive.
Progress requires commitment, and commitment requires motivation. Motivational interviewing guides you to remember the benefits of sobriety, identify the goals that excite you most and establish concrete steps to achieve them.
Support groups offer a way for you to connect with people who can demonstrate positive approaches to sobriety. They let you learn from others in recovery about managing your triggers and cravings, handling negative thoughts and dealing with life's daily challenges without substance use.
Most importantly, support groups provide a sober social network with people who understand what you're going through because they've been through it themselves. Addiction can be a lonely, isolating experience if you feel no one around you understands the challenges you're facing, and support groups give you people who see and support you.
You may want to try different types of support groups to find the one that works best for you:
Twelve-step groups: Twelve-step programs are support groups centered around specific action steps to help their members work through recovery. While the 12 steps originated in Alcoholics Anonymous (AA), your counselor will help you find a program that fits your needs and actively support your involvement.

SMART Recovery: Self-Management and Recovery Training (SMART) Recovery focuses on helping you develop tools to manage your recovery. Engaging in SMART Recovery means taking a behavioral approach of examining your motivations and learning skills to manage your emotions, thoughts and behavior. While this method encourages more conversation between members during their meetings, it doesn't use sponsors like AA and may work best in addition to a support group with more of a focus on mutual aid.

Gateway alumni community: Former patients have access to ongoing support programs through our alumni Recovery Community. Events like alumni meetings, recovery support groups and community events give you opportunities to receive support and offer it to new patients. You'll also learn how to use the myStrength app so you can take your support network with you wherever you go.
Gateway Foundation Is Here to Help
If building your ongoing treatment plan feels overwhelming, Gateway Foundation is here to help. Recovery is a long and often uphill road, but you don't have to walk it alone. When you work with Gateway Foundation, we're with you for life.
You can find the support and connection you need to keep your recovery on track with our continuing care programs, from group therapy to our alumni community. If you're looking for more information or if you or a loved one needs help with a substance use disorder, contact Gateway Foundation today.