Jul 29

Drug Addiction Treatment
Virtual outpatient addiction treatment is one of the therapy options we provided at Gateway Foundation. In the wake of uncertainty and restrictions due to COVID-19, virtual treatment is a reliable and effective form of therapy.
Is virtual treatment the right option for you? What can you expect from our addiction treatment services online? We'll cover the benefits of online addiction treatment to help you decide whether virtual outpatient addiction treatment is right for you.
How Does Virtual Treatment Work?
At Gateway, virtual treatment is accessible from the comfort of your home. In online addiction therapy and treatment, you will receive the same quality of care that you would during in-person sessions. Due to everyday responsibilities and obligations, many people can't attend an in-person program regularly. Online recovery programs allow you to receive the addiction treatment you need from home.
We offer programs during the following hours:
9:00 a.m. to 12:00 p.m.
1:00 p.m. to 4:00 p.m.
6:00 p.m. to 9:00 p.m.
When you utilize our Telehealth platform, you will engage with other participants and our therapists. In our interactive sessions, we use a combination of treatment modalities, including individual therapy, group therapy, assignments and psycho-educational groups. Covered topics will include addiction therapy, relapse prevention, co-occurring disorders, creative recovery, mindfulness and Medication-Assisted Treatment (MAT).
Days and times for attendance of the program may differ based on what your needs are.
What can you expect regarding costs for virtual treatment? Most health insurance plans cover our virtual outpatient sessions at Gateway, leaving you with minimal out-of-pocket costs.

Why Is Online Substance Misuse Treatment Beneficial?
Online substance misuse treatment is an effective alternative to traditional in-person mental health care. The most common reasons people do not pursue recovery are that they want to continue abusing substances, they believe they cannot afford recovery, they cannot get insurance coverage to pay for recovery or they do not want to leave their job or family, or they do not have transportation to and from treatment.
Fortunately, virtual addiction treatment can allow patients to overcome these barriers to recovery.
Virtual addiction treatment can be particularly advantageous for those who are coping with substance use disorders in isolated communities. If you live in a remote area, are participating in addiction treatment for the first time or feel more comfortable in an online therapy session, you may want to consider enrolling in our virtual outpatient addiction treatment program.
Below are some of the benefits of virtual addiction treatment:
1. Accessible
One of the benefits of online substance misuse treatment is its accessibility. Virtual outpatient addiction treatment removes barriers for those with disabilities, those who live far from treatment centers and those who cannot arrange child care or transportation. This makes virtual care a much more accessible and viable form of addiction treatment.
Due to COVID-19, you may want to avoid traditional face-to-face therapy sessions if you have medical conditions that could potentially compromise your health and safety. Fortunately, our experts in addiction recovery will be accessible to you while you're in the safety of your home.
As with in-person therapy, virtual addiction treatment is covered by insurance. Further, teletherapy is more affordable than traditional therapy, which makes virtual treatment more accessible. If you need an outpatient level of care, our virtual solution at Gateway can offer you the addiction treatment you need. Our program will be with you wherever you go.
2. Convenient
Another benefit of virtual addiction treatment is its convenience. All you need to participate in virtual care is:
An internet connection.
A computer, tablet or smartphone.
A camera.
A microphone.
A speaker.
A private, quiet room.
By using technology you are already familiar with, you can access addiction treatment from the comfort of your home with the simple click of a button. Virtual services are second nature for the younger population in particular. You may feel like meeting with a therapist virtually may be less awkward than meeting in person.
You will not need to worry about commuting to a face-to-face session or figuring out how to fit a virtual meeting into your schedule. At Gateway, we offer a flexible format that allows you to still meet your everyday obligations. This long-term solution is free from physical constraints, which means you can access virtual meetings wherever you are, whether you are out of town, on vacation or on your lunch break. Wait times also tend to be shorter than conventional therapy.
3. High-Quality Experience
Another advantage of virtual addiction treatment at Gateway is the high-quality experience we offer. Our virtual services parallel our in-person outpatient addiction treatment services. During our virtual outpatient addiction treatment services, we address co-occurring mental health issues and provide you with the expert support you need.
Virtual health care is also comparable to conventional care in efficacy. According to reports, virtual outpatient addiction treatment may lead to improved medication adherence, reduced hospitalization stay and higher reduction in symptoms. We also offer a long-standing alumni program that can support you during and after virtual outpatient addiction treatment.
Telecare Programs Offered
Take part in virtual addiction treatment through Gateway from your home or office. Online rehab programs are ideal for those seeking to balance their personal or professional life with the treatment they need. If you do not live near an outpatient center, are unable to get to one or are uncomfortable in an in-person group setting, virtual outpatient addiction treatment may be the right treatment option for you.
We utilize clinical components proven to be effective in helping our patients overcome their struggles with addiction and co-occurring disorders. We can customize our program to your individual needs and help you address and understand the causes of your substance use. We will also assist you in identifying effective coping strategies you can implement to improve your life. Our compassionate staff will be with you each step of the way.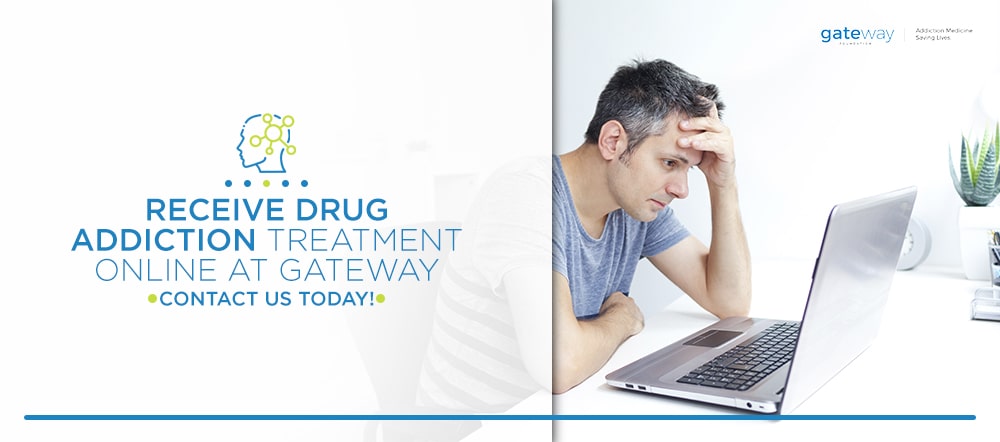 Receive Drug Addiction Treatment Online at Gateway
Gateway is the largest nonprofit treatment provider in the nation with locations in Illinois. We offer every level of care, including residential, withdrawal management, in-person outpatient treatment and alumni support. and sober housing.
For more than 50 years, Gateway has been the choice for medically based, effective addiction treatment services. Our compassionate, accredited staff will take the time to get to know you and create a treatment plan suitable for your specific goals and needs.
Recovery is a process that requires continued commitment and focus for the long term. At Gateway, we are with you for life. For our virtual services, we use a HIPAA-compliant platform to encrypt user data, which means your private information will remain secure. Contact us today for a free and confidential assessment to determine if our facility is right for you.