Apr 2

Drug Addiction Treatment
What is Alcohol Awareness Month?
Established in 1987 by the National Council on Alcoholism and Drug Dependence, Alcohol Awareness Month occurs in April. The purpose of Alcohol Awareness Month is to educate Americans about the dangers of alcohol use.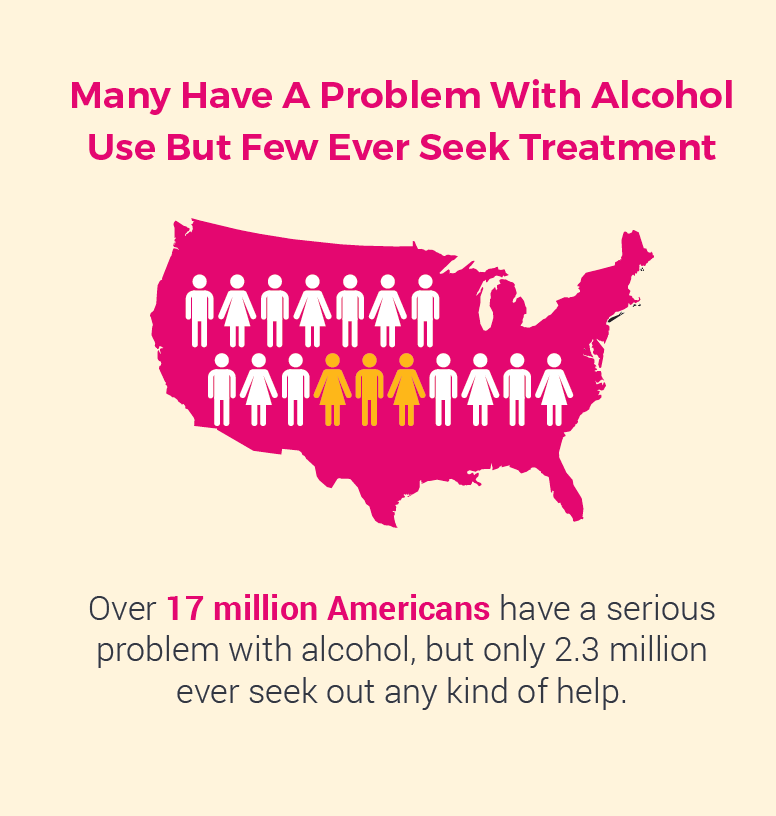 Over 17 million Americans have a serious problem with alcohol, but only a fraction of that number ever seek help to start their journey to recovery.
When Does Use Become a Problem?
Identifying when alcohol use has turned into a problem can be complicated, especially when you are trying to evaluate yourself. When a medical or psychological professional wants to determine if someone exhibits the signs of substance use disorders (SUD), they turn to the criteria established in the Diagnostic and Statistical Manual of Mental Disorders, 5th Edition (DSM-5).
The questions in the following alcohol dependence self-test draw on the DSM-5 criteria to help you determine whether or not you need help overcoming an alcohol use disorder.
Alcohol Addiction Self Test
Do you lose time from work or school due to drinking?
Yes
No
Do you drink because you are uncomfortable in social situations?
Yes
No
Do you drink alcohol to build up your self-confidence?
Yes
No
Is drinking affecting your relationships with friends?
Yes
No
Do you drink alone?
Yes
No
Do you drink to escape from studies or home worries?
Yes
No
Do you feel guilty or depressed after drinking alcohol?
Yes
No
Does it bother you when someone expresses concern over your drinking habits?
Yes
No
Do you have to take a drink when you go out to socialize?
Yes
No
Do you get along better with other people when you drink?
Yes
No
Do you get into financial troubles over buying liquor?
Yes
No
Do you feel more important when you drink?
Yes
No
Have you lost friends since you started drinking alcohol?
Yes
No
Do you drink more than most of your friends?
Yes
No
Have you started hanging around with a crowd that drinks more than your old friends?
Yes
No
Do you drink until you can't drink anymore?
Yes
No
Have you ever had a complete loss of memory from drinking?
Yes
No
Have you ever been to a hospital or been arrested due to drunken behavior?
Yes
No
Do you think you have a problem with alcohol?
Yes
No
If you answered "yes" to 3 or more questions in this self-test above you may have a problem with alcohol, and should speak to a qualified professional regarding your drinking.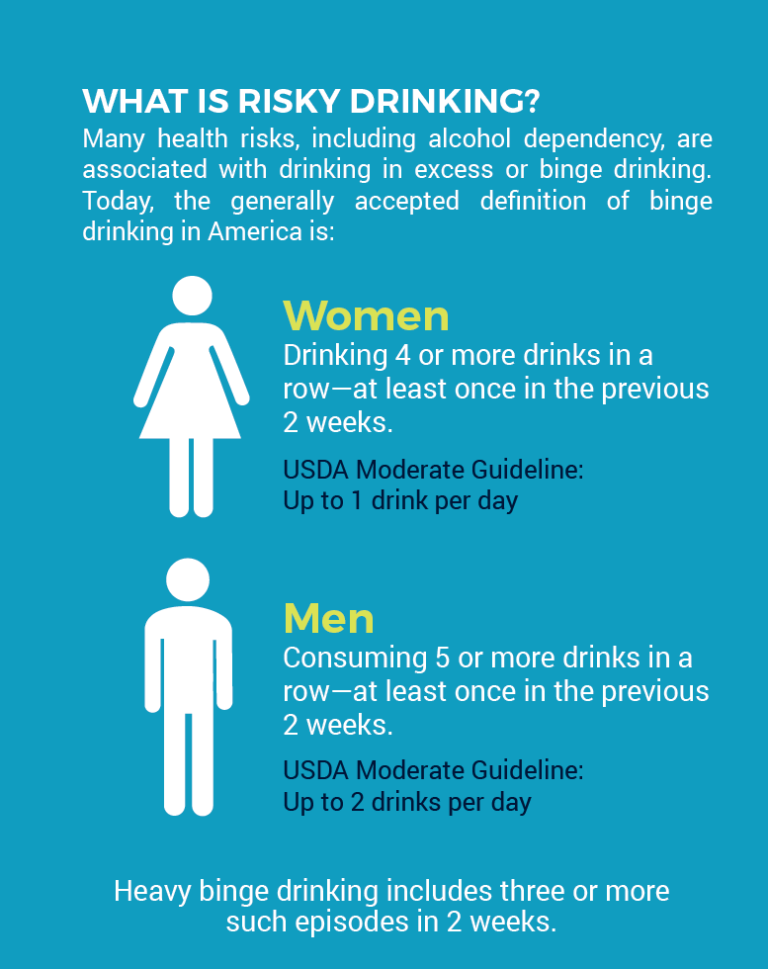 WHAT IS RISKY DRINKING?
Many health risks, including alcohol dependency, are associated with drinking in excess or binge drinking. Today, the generally accepted definition of binge drinking in America is:
Women: Drinking 4 or more drinks in a row—at least once in the previous 2 weeks.
Men: Consuming 5 or more drinks in a row—at least once in the previous 2 weeks.
Heavy binge drinking includes three or more such episodes in 2 weeks.
IS IT WORTH THE RISK?
Although alcohol can make you feel energetic or uninhibited, it is actually a depressant. Alcohol shuts down parts of your brain.
When the amount of alcohol in your blood exceeds a certain level, your respiratory system slows down markedly and can cause a coma or death because oxygen no longer reaches the brain. This is referred to as alcohol poisoning. For women, even moderate drinking can increase the chances of developing breast cancer by 10%.
Daily alcohol intake may impact the ability of adults to produce and retain new cells, reducing new brain cell production by nearly 40%. A moderate level of regular drinking for even two weeks can have profound effects on the way adults learn new things.
DEGREES OF DEPENDENCY
Alcohol use disorder (formerly known as alcoholism) can be mild, moderate or severe. People who are dependent on alcohol can be highly functioning, highly compromised or somewhere in between. Alcohol use disorder is rarely a case of "all or nothing."
Following are signs of alcohol dependence:
• Tolerance
• Withdrawal symptoms like rapid heart rate, vomiting and seizures
• Drinking more than intended
• Drastic change in behavior
• Continued use despite physical or psychological problems that are exacerbated by alcohol

EXPERTISE IN TREATING ALCOHOL USE DISORDER
As the largest provider of substance use disorder treatment in Illinois, Gateway Alcohol & Drug Treatment Centers help thousands of adults and teens successfully complete treatment each year and find the hope they need to live again.
Our customized treatment plans are unique to each person's needs and circumstances. And our integrated approach includes the most effective counseling and therapies, including the use of evidence-based practices and medication-assisted treatment.
We also recognize the immediate and long-term benefits to individuals in recovery when their families are involved in treatment. For that reason, we engage families in counseling and substance use disorder education programs.
Coming to grips with addiction is never easy, but there is effective treatment available at Gateway. We provide evidence-based programs to treat the full spectrum of addictions at multiple levels of care, as well as the mental health care many people need to recover successfully.