Our purpose is to save and transform lives to make a difference in as many communities as possible. The only way to continue improving our model is to understand which aspects are most significantly influencing the lives of our patients. For this reason, we are committed to quality metrics and outcomes.
NEW GATEWAY FOUNDATION OUTCOMES RESEARCH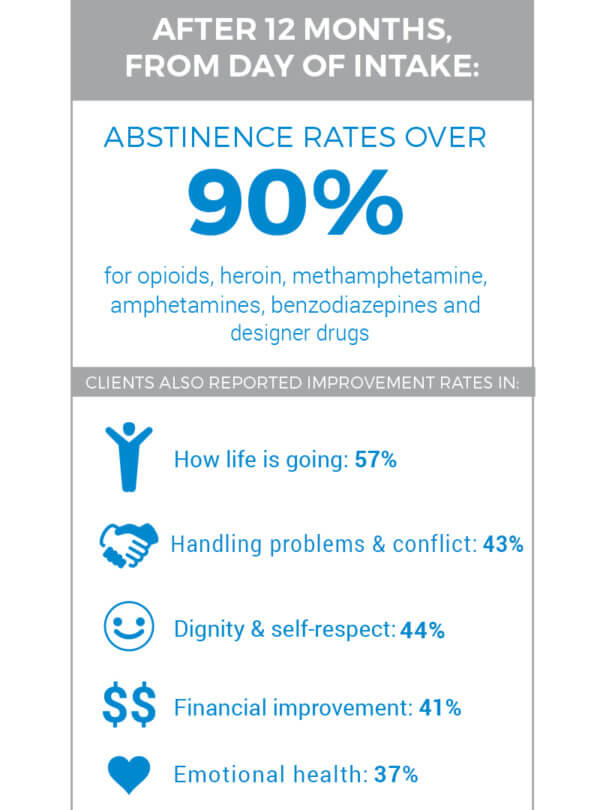 Between 2017 and 2019, we invested resources to complete an independent evaluation of our programs and services at two of our northern Illinois locations. While we have been tracking our impact in various ways, such as client satisfaction, client completion rates and the state-reported outcomes data, that information was limited. This voluntary study, conducted by the OMNI Institute research group, pulled from a randomized sample of clients who were selected based on one main criterion – they were all commercially insured patients. The method for this evaluation was a phone survey that asked clients about their treatment experience as well as levels of life satisfaction, recovery capital and abstinence.
GATEWAY FOUNDATION SUCCESS RATES
Not only were our abstinence rates for certain substances, like opioids, greater than industry norms, key indicators of health and well-being also increased significantly following 12 months – when rates of relapse are the highest – after admission to a Gateway program. These results are a true testament to Gateway's standing as a leader in Addiction Medicine.
GETTING TREATMENT AT GATEWAY FOUNDATION
At Gateway, we offer the best in Addiction Medicine catered to each patient's unique needs. Working together, we can get you or a loved one on to the road to recovery. For a free, confidential consultation, call 877.381.6538.