Nov 29

Alcohol Addiction Treatment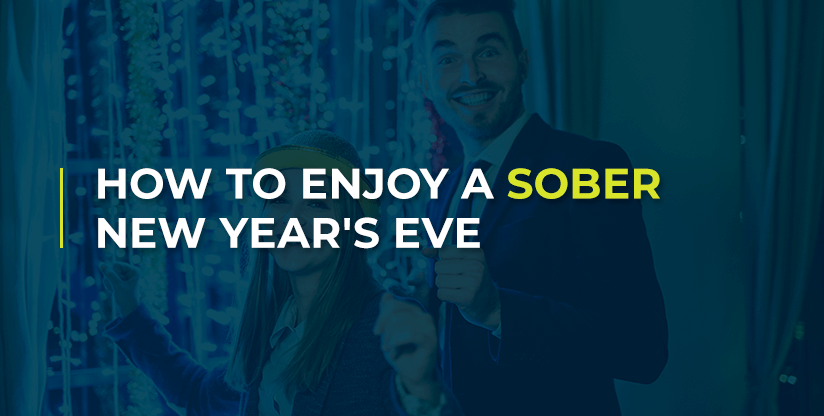 It's no secret that society often glamorizes binge drinking, especially on New Year's Eve and other holidays. While it can feel challenging to navigate the holiday season sober, now is a great time to recommit to your goals and connect to the true meaning behind the holidays. While it will take some planning, celebrating sober will have you waking up refreshed on New Year's Day, ready to tackle your goals with more clarity and ambition than ever before.
Keep reading for seven ways to celebrate a sober New Year's Eve while honoring your goals.
7 Ideas for a Sober New Year's Eve
Planning how to navigate a triggering event such as a holiday will allow you to successfully maintain your sobriety. Specific social settings, family members, or friends have the potential to trigger substance use. Fortunately, several activities you found enjoyable before recovery are also enjoyable sober. Surrounding yourself with members of your support network can also be extremely helpful.
Without further ado, here are 7 sober New Year's Eve ideas:
1. Plan a Night of Self-Care
While New Year's Eve is often associated with packed bars and clubs, pressure to drink, and social anxiety, the holiday doesn't have to be a social affair. There's something to be said for taking the night for yourself, and practicing self-care is an excellent way to celebrate the holiday and take much-deserved time to relax.
During your night in, you might:
Cozy up in your favorite pajamas

Light up your favorite candles
Now is a great time to give your body the rest and attention it deserves. A sober New Year's Eve spent caring for yourself and relaxing can provide many benefits. You might also invite a friend to join you if your substance use is triggered by being alone or feeling isolated. Ending your relationship with alcohol and substances is a courageous decision and self-care is a celebration of your recovery.
Hosting a New Year's Eve game night invites friendship and healthy competition. Whether you play one game as a group or a tournament of board games, this New Year's Eve celebration is sure to bring lots of laughter and fun. Games are an excellent sober activity, and when you get friends and family together, it can create a sense of togetherness.
You might organize a night of Clue, ask attendees to bring their favorite board game, or rely on something simple like charades or even video games. When not under the influence, you can create lasting memories with those you love. Game night is a great time to celebrate friendship, your sobriety, and the new year.
A sober, themed party is another fun way to enjoy the holiday without substances. You can invite members of your support network, including friends, family members, and those you may have met in recovery. Examples of themed parties you might host include:
Ugly holiday sweater contest
You might also make the night more collaborative by asking guests to bring a food item for a potluck. You can set the table with an alcohol-free beverage and share the food and conversation. A potluck and a night of laughter and fun can boost feelings of connection and belonging.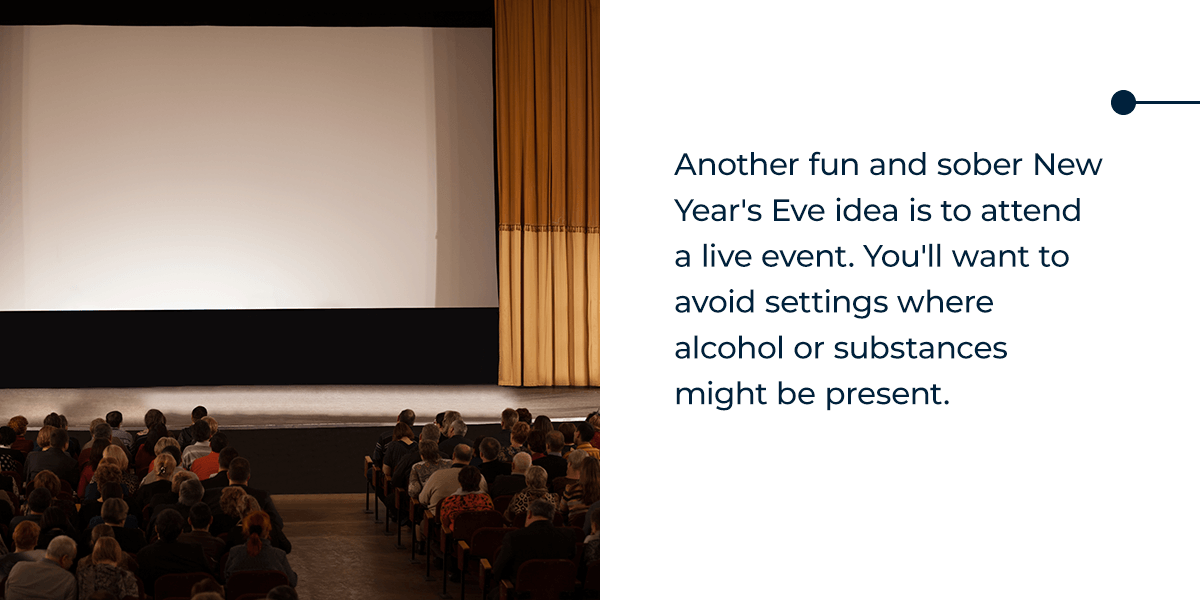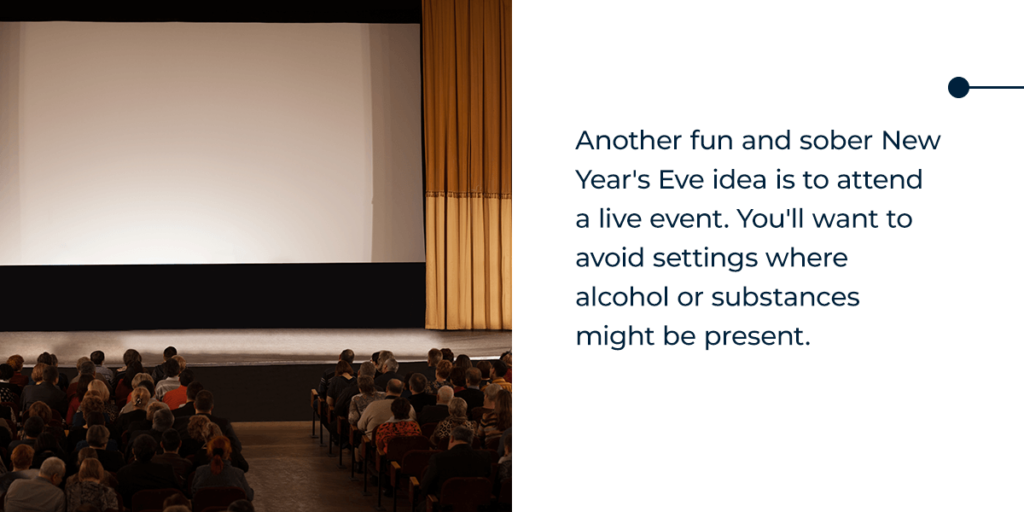 Another fun and sober New Year's Eve idea is to attend a live event. You'll want to avoid settings where alcohol or substances might be present, but some ideas for New Year's shows and events include:
If you're unsure what's happening in your area, you can check online event pages to find listings near you to enjoy your New Year's sober.
While it can feel empowering to reclaim traditions, it can also be rejuvenating to create new customs when celebrating a sober New Year's Eve. After a long season of holiday gatherings, permit yourself to be spontaneous at the end of the year.
You might grab a group of trusted friends for a road trip, experiment with new foods, or check something off your bucket list before the end of the new year. Another option is spending your weekend nearby at a bed and breakfast or a cabin in the woods — the goal is to simply relax and celebrate your sobriety.
Just keep in mind this idea should be reserved for those who are further ahead in their recovery journey, as structure is essential for those who have just begun their sober lifestyle.
When going through the holidays without drugs or alcohol, you might feel lonely or isolated, especially without a support network. This is common for many people, and while it may feel like it sometimes, you are never alone. A great way to celebrate New Year's Eve is by immersing yourself in your community and giving back through donations or service.
Coordinating a coat drive

Supporting another initiative
A charity celebration is also a fun way to give back to a good cause. Classy and elegant masquerades or events with holiday fundraising opportunities will have you dressing up and giving back as you ring in the new year. No matter the endeavor you choose, the effect of helping others can go far beyond what you even see. New Year's Eve may feel daunting, but choosing to support someone else can provide a welcome distraction, a sense of belonging, and a distance from addiction.
New Year's Eve is also a great time to join others navigating recovery. In support groups, you'll have the opportunity to connect with others going through similar experiences. Whether you're navigating sobriety or moderation, individual therapy and support groups can help you self-reflect, hear from peers, and practice accountability.
Group therapy is a safe space to share your thoughts about the past year, hopes and goals for the year to come, and anything on your mind. Community and togetherness are essential for helping people change their relationship with drugs and alcohol. By attending a support group, you'll have the opportunity to celebrate New Year's Eve on your own terms, with mental health professionals helping you every step of the way.
Get Addiction Recovery Help at Gateway Foundation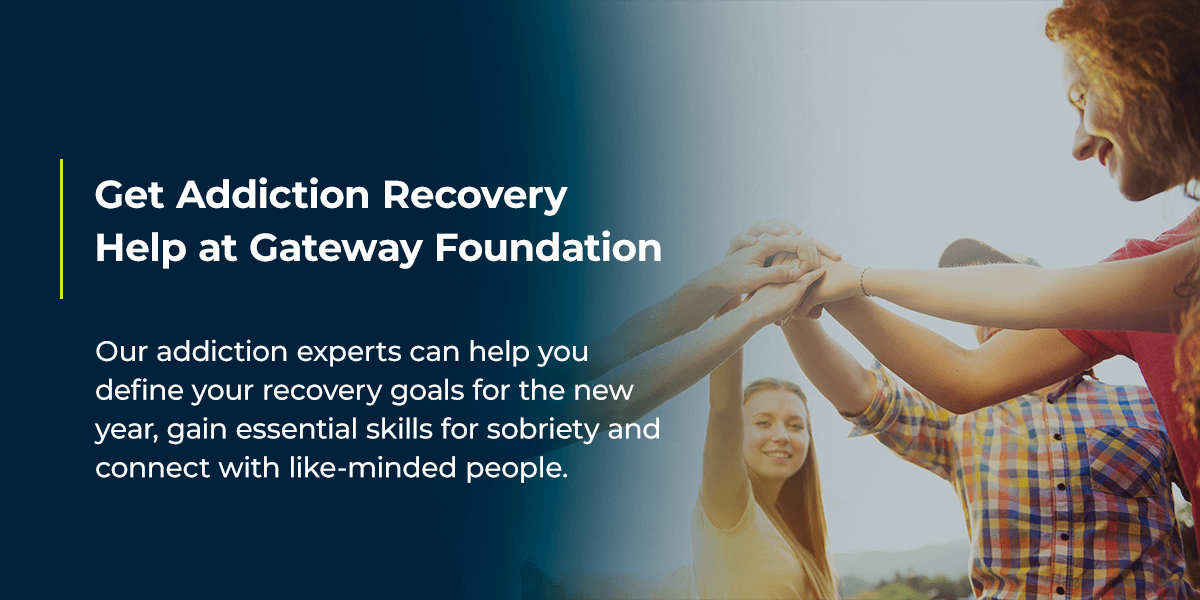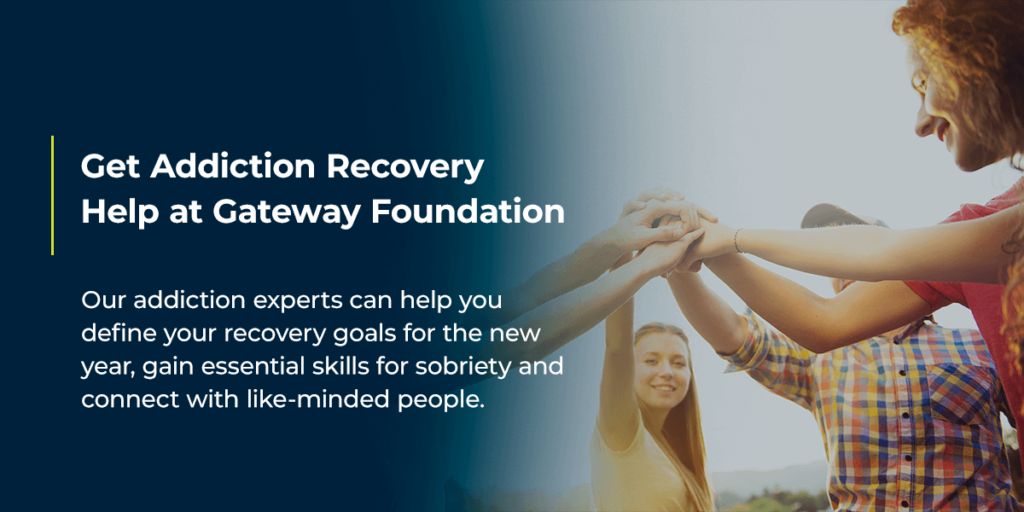 While plenty of people spend New Year's partying and drinking, a sober night makes for a more enjoyable, memorable time. Just staying sober for New Year's is something to celebrate in itself. When you need assistance navigating the holiday season sober, Gateway Foundation can help.
Our addiction experts can help you define your recovery goals for the new year, gain essential skills for sobriety and connect with like-minded people. In residential or outpatient recovery, you can join support groups and attend individual therapy sessions to help you recover successfully.