Jun 29

Addiction

Drug Addiction Treatment

Treatment
Too often, people who need alcohol or drug rehab don't receive appropriate care because it would mean taking extended time away from their work or family. With the flexibility of Gateway Outpatient drug rehab programs, adults and adolescents can work through drug addiction treatment without putting their lives on hold. Programs are ideal for people with a strong support system, stable living situation and the internal motivation to change. Some patients also transition into a less intensive program such as Outpatient Treatment following the conclusion of Residential Treatment.
Recently we have transitioned all adolescent addiction treatment to online treatment in order to better serve our younger patients.
What Is Outpatient Rehab?
Outpatient substance abuse treatment programs offer personalized treatment plans that help individuals understand and overcome their addiction. Unlike Residential programs, Outpatient Treatment is a flexible option that allows patients to go home at the end of the day. Having shorter and less constricting time restraints also allows patients to receive treatment without interfering with their work or personal schedule.
Benefits of Outpatient Treatment Centers
Choosing whether to enter a Residential or Outpatient program requires careful thought. While Residential Treatment for drug or alcohol addiction may be preferable, Outpatient Treatment allows patients to maintain more aspects of their everyday life among other benefits:
• Flexibility – With Outpatient drug treatment, you can get the services you need in a way that fits your schedule. Patients can continue with work or school. This is ideal for those who need to work to help support their family or for students working toward graduation.
• Access to support – Outpatient substance abuse programs allow individuals to remain in close proximity to their loved ones and support network while receiving the alcohol or drug addiction treatment they need.
• Confidentiality – Alcohol and drug rehab treatment at Gateway centers is always confidential. It reduces the need for patients to explain extended time away from work or school.
• Affordability – Outpatient Treatment is generally less expensive than Residential programs, but it provides the same high-level of attention and care. Insurance is accepted and covers most costs associated with drug addiction treatment. If you have question about coverage,
Gateway Outpatient Treatment Experience
Patients generally engage in multiple counseling sessions per week, over four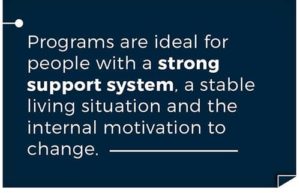 to six weeks. Gateway's comprehensive approach includes:
• Substance abuse education
• Individual and group counseling
• Medication-Assisted Treatment Programs to reduce or eliminate cravings and withdrawal symptoms
• Treatment for underlying mental health concerns (also called dual diagnosis or co-occurring disorders)
• Family counseling and education
• Relapse prevention, education and support
• DUI evaluation and education*
We offer educational and individualized programs based on a patient's specific needs. Treatment can include Mindfulness-Based Sobriety programs and 12-Step Facilitation to help patients re-discover their lives free from the grips of a substance use disorder. Programs can be tailored to men and women seeking treatment.
Recovery with Gateway doesn't end when you or a loved one leaves one of our locations. Our teams are committed to helping patients achieve sustained recovery and offers comprehensive aftercare programs for post-treatment recovery support.
Gateway substance abuse treatment experts provide counseling and therapy to give individuals the tools and knowledge needed to manage addiction on an ongoing basis. Patients will learn skills such as how to live a balanced lifestyle free of drugs or alcohol and how to improve the quality of their relationships.
Finding the Right Outpatient Drug Rehab Centers Near Me
Once you have decided to pursue Outpatient Treatment, it's important to find a local treatment center that aligns with your needs. First, check to make sure the treatment center offers Outpatient Treatment—not all centers do. Then, take a closer look at their background, program offerings, success rates, and general philosophy to ensure it's a good fit. Find an expanded list of questions to ask potential treatment centers here. In addition, take a look at the times the center offers its meetings and sessions to make sure it works with your schedule.
Gateway Half-Day Outpatient Treatment Locations
Gateway Full-Day Outpatient Treatment Locations
If you have a problem with drugs or alcohol and are in need of an Outpatient Treatment Program, give Gateway a call today at 877.505.4673.