Feb 16

Addiction

Addiction Therapy

Drug Addiction Treatment
Thousands of people die from drug overdoses every year. Opioid overdoses account for a significant number of those deaths. In 2019, opioids were connected with 70.6% of all drug overdose deaths. In Chicago, the number of opioid overdoses increased by 20% while lockdown orders were in effect due to the COVID-19 pandemic.
What does Chicago's opioid overdose epidemic look like? What are the factors driving opioid overdose deaths in the city? And what can be done to help address these factors and fight back against the opioid overdose crisis?
Statistics on Chicago's Overdose Epidemic
Opioid overdoses and deaths spiked in Chicago during the lockdown order put in place from late March to May 30, 2020. Chicago drug overdose deaths involving opioids were up 24%, approximately 43.4 deaths per week.
While the lockdown period played a role in overdose deaths, Chicago struggled with the opioid epidemic before the COVID-19 pandemic began. One report found that the fatality rate of opioid overdoses is 1.5 times higher in Chicago than in the state of Illinois.
Opioid-related deaths in Chicago have decreased 18% in 2021 compared to 2020, but the opioid epidemic persists in the city. Understanding the factors that increase the risk of opioid abuse can help address the epidemic and mitigate the damage it causes and the number of lives lost.
Contributing Factors
Here are some of the major factors that play a role in the Chicago overdose epidemic:
Fentanyl
Fentanyl is a synthetic opioid, and it has become a leading cause of overdose-related deaths in the United States. Fentanyl can be legally prescribed as a painkiller, but it is also illegally manufactured and sold.
In its illegal forms, fentanyl is often taken as a powder, pill or on blotter paper. Fentanyl is highly addictive and powerful. This drug is 80 to 100 times stronger than morphine, another type of addictive opioid. Fentanyl is oftentimes mixed with other drugs, like heroin, when made and sold illegally.
Of the opioid-related deaths in Chicago in the first half of 2021, 90% involved fentanyl.
Dual Diagnosis
Many people who suffer from substance abuse disorders also have a mental health disorder. These co-occurring conditions are commonly diagnosed together and can make treatment more involved. Approximately half of the people with a mental illness will develop a drug or alcohol substance use disorder.
People with conditions like anxiety, depression or bipolar disorder may attempt to self-medicate with drugs or alcohol. When reaching out for treatment, these people will need help addressing both their mental health and their addiction, but getting help and an accurate diagnosis can be difficult.
Gender
Research has shown that opioid-related deaths are higher among men than women. In general, men are more likely than women to use illegal drugs. But, women are more likely than men to have chronic pain, which can mean a higher rate of legitimate opioid prescriptions among women. Gender is an important factor when it comes to understanding who is at risk of developing an opioid addiction and experiencing a subsequent overdose.
Race
Race and ethnicity are also important factors to consider when fighting against the overdose epidemic. In Chicago, opioid overdoses are the highest among Black people, followed by white people and Latinx people.
What We Can Do to Mitigate the Overdose Epidemic in Chicago
Combatting the overdose epidemic in Chicago is challenging, but there are some important approaches to mitigation that can help, including:
1. Naloxone
Naloxone is an opioid antagonist. This medication is able to quickly reverse the effects of an opioid overdose. Administering naloxone when someone is experiencing an overdose can help a person who is struggling to breathe or has stopped breathing. The medication can be injected or taken as a nasal spray.
Making naloxone readily available can help to reduce the number of opioid and heroin overdose deaths. In Illinois, naloxone is available at pharmacies and through drug overdose prevention programs. Naloxone has cut the number of deaths by 50%in various communities.
2. Syringe Exchange and Disposal
The negative consequences of the opioid epidemic are not limited to overdoses alone. Unsafe needle use, such as using shared or old needles, leads to an increased risk of HIV/AIDS and hepatitis C.
In an effort to promote safe needle usage, many states, including Illinois, have introduced syringe exchange programs. These programs reduce the risk of infection and offer resources for people who are trying to stop using. People who use a syringe service program (SSP) are five times more likely to start treatment for drug addiction.
3. Treatment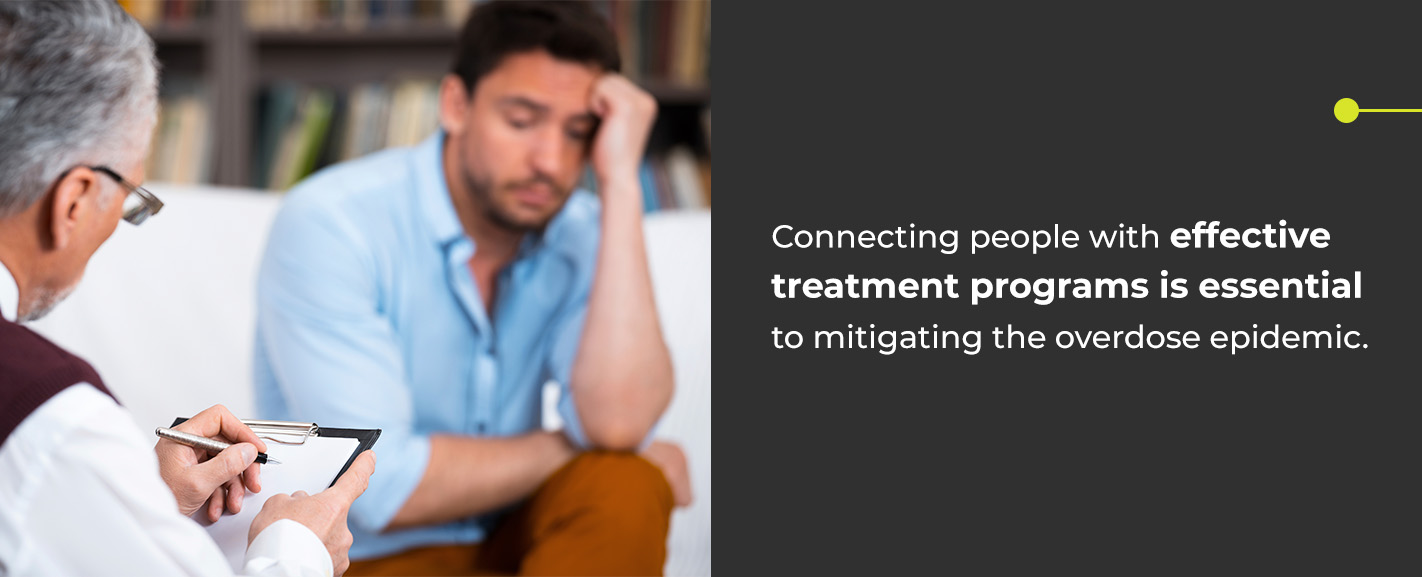 Connecting people with effective treatment programs is essential to mitigating the overdose epidemic. Medication-assisted treatment (MAT) is recognized as an effective approach to addressing addiction. This form of treatment combines the use of medication with cognitive behavioral therapy.
Medication can help you detox safely and manage cravings, while cognitive behavioral therapy can help you recognize the behaviors and patterns that lead to and trigger your drug use and addiction. Once you recognize those triggers, MAT can help you to make positive changes to cope with those triggers and find a way to move forward with sobriety.
4. Addressing Root Issues
Opioid prescriptions increased during the 1980s and 1990s, and these medications were heavily promoted by pharmaceutical manufacturers. The drugs were legally prescribed, and their addictive nature was not widely communicated or understood.
Prescription guidelines have been updated since that time, but access to opioids persists. Some people may switch to heroin if unable to access prescription opioids. Prescription opioids are also sold or manufactured in the illicit market. Socioeconomic factors, race and ethnicity all play a role in the risk of developing an opioid addiction.
Understanding the root causes of the opioid epidemic is a complex undertaking. Addressing these issues will take time. In the meantime, ensuring access to treatment is vital.
Get Help at Gateway Foundation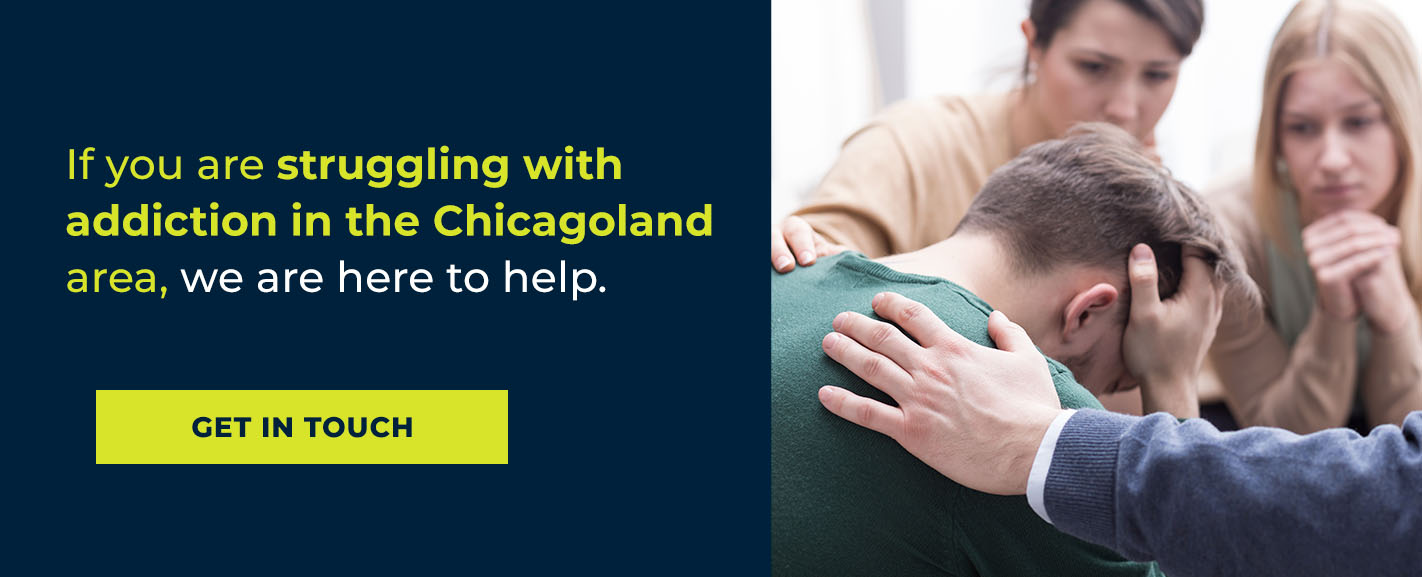 If you are struggling with addiction in the Chicagoland area, we are here to help. Gateway Foundation provides comprehensive programs and services for substance abuse and addiction treatment.
We work with people to create individualized treatment plans to help them rebuild their lives and move toward long-term recovery. Contact us today, and we can help you take your first steps toward treatment.