Jul 2

Addiction

Addiction Therapy

Treatment
What is Mindfulness-Based Sobriety (MBS)?
Mindfulness-Based Sobriety provides a safety net for recovery.
Mindfulness-Based Sobriety (MBS) is an integration of mindfulness, Acceptance and Commitment Therapy, and clinical psychologist Alan Marlatt's research on relapse prevention.
What are the Benefits of Mindfulness-Based Sobriety?
Patients often have the impression that experiencing triggers to relapse is somehow a weakness. Through MBS, our patients learn how to effectively plan for inevitable triggers and cope with overwhelming moments.
Patients learn to make a roadmap to recovery by identifying their past challenges during recovery attempts. Learning to identify decisions that impact use is essential to building a solid plan to manage sobriety.
Mindfulness-Based Sobriety at Gateway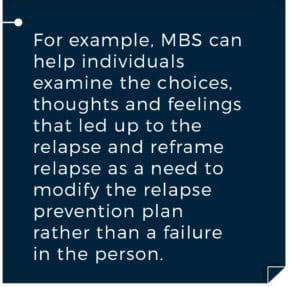 MBS was researched and developed at Gateway for the purpose of equipping patients with a clear understanding of what relapse is, how it manifests and ways to effectively manage both internal and external prompts to resume use. We not only utilize MBS to help patients learn effective ways of avoiding relapse, but we use it to also help clients successfully overcome the challenges of rebounding from a relapse. For example, MBS can help individuals examine the choices, thoughts, and feelings that led up to the relapse and reframe relapse as a need to modify the relapse prevention plan rather than a failure in the person. MBS is one of Gateway's pillars in our evidence-based practices. We utilize it in group, individual and family counseling.
What Does the Research Say?
Marlatt's qualitative research specifically magnifies the reasons people relapse. His work breaks down the thoughts and behaviors that lead to relapse. He conducted qualitative research following clients on their journey of recovery and evaluated their relapses to specifically identify common factors that occur.
Gateway's mindfulness response to urges and cravings focuses on breathing to de-escalate the body-mind reaction that occurs when patients experience a triggering event. It is specifically designed for those in recovery experiencing such triggers.
"You can't calm the storm. So stop trying. What you can do is calm yourself. The storm will pass." —Timber Hawkeye, author
Addiction Therapy at Gateway
Mindfulness-Based Sobriety is a major part of the addiction therapy services at Gateway. Our licensed and compassionate professionals take an integrated approach to ensure the best outcomes for patients. To learn more about our customized addiction treatment programs, contact Gateway today at 877.505.4673.