Jun 10

Addiction Recovery Alumni

Success Stories
Regaining Control: A Young Mens Success Story
Feelings of isolation, fear, lack of control and failure were all too familiar for Mariusz. When attempts at creating an idealistic world to escape his reality fell short, Mariusz found comfort in alcohol and drugs at age 15. Like many young men, Mariusz began drinking on the weekends with a new group of friends, providing the sense of camaraderie he had been searching for while masking his insecurities. As his family relationships and life continued to fall short, Mariusz's drinking became more routine, and new people and substances introduced themselves into Mariusz's life.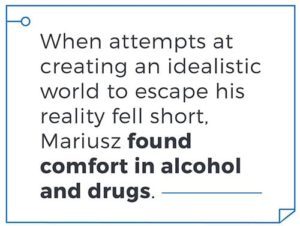 He was attracted to the culture and the people who smoked marijuana, but what started as a leisurely activity soon got out of hand. Mariusz began buying in bulk and selling marijuana. He started trying new drugs, going to festivals, getting involved with women and, suddenly, the law.
Full Flight from Reality
Mariusz received a phone call from his probation officer asking him to come in for a random drug test. He always knew this would happen, but "was in full flight from reality." He wanted to leave the country, believing it was his only way out, until the officer told him that he should look into Gateway. Although unsure why, Mariusz finally "surrendered to the fact that (he) could no longer run."
"I was done living in fear," he says. "I finally accepted my addiction."
Mariusz entered into treatment at Gateway Lake Villa. As Mariusz sat and listened to other patients, he realized he could no longer deny their similarities. Mariusz finally let down his walls and accepted help from the counselors at Gateway.
By way of the group counseling, activities and a safe, compassionate environment at Gateway, Mariusz was able to express every insecurity and aggression he harbored towards himself and others. Once he accepted his flaws, he felt a weight lift from his shoulders. Not one person at the Lake Villa treatment center laughed at him; rather, they embraced him and made him feel that he wasn't alone.
Mariusz spent 30 days at Lake Villa. After time at their residential addiction treatment center, he spent a year and four months at a recovery home where he continued to attend Alcoholics Anonymous (AA) meetings with a group of people he could finally, and proudly, call his friends. Mariusz had moments of doubt, but with his support system, he was able to continue on his path to recovery.
A Young Mens Success Story Comes Full Circle
Mariusz moved back to Des Plaines where it all began, but this time, he was able to cope with the insecurities that once fueled his destructive behaviors. Now a straight-A student with a full-time job and a committee member of the Illinois State Conference of Young People in AA, Mariusz is proud of the person he has become.
"It was a bumpy road," he says, "but there is a chance if you put in the work."
About Gateway
With drug and alcohol rehab center locations throughout Illinois, Gateway has numerous mens young adult rehab programs. Like Mariusz, you or someone you love can experience a young mens success story, too. Call us today at 877.505.4673.