Jul 2

Addiction

Addiction Recovery Alumni

Success Stories

Treatment
Outrunning Addiction
A 30 pack of beer and a bottle of Bacardi every day was Cheryl's norm for 22 years. After experiencing emotional and physical pain at a young age, Cheryl found solace in alcohol, which helped her escape her family reality and fit in with those around her. Cheryl's alcohol addiction had already taken hold by age 17.
Cheryl went on to receive 19 DUIs and eventually was sent to jail. Yet the binges continued. She was in and out of the system for years, moving to nine different states, until she spent 30 days in jail. It was during this time that she learned about Gateway and finally admitted she could no longer outrun herself.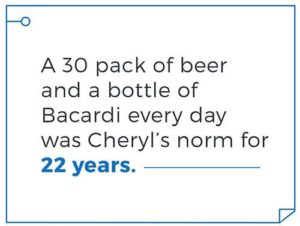 She was ready to stop the cycle. Cheryl describes it as a moment of self-actualization: "I needed to change, I needed to do something, I wanted to get sober."
How Gateway Helped
Finally accepting the power her addiction had over her, Cheryl admitted herself to Gateway Aurora. With help from the staff who challenged and motivated her, Cheryl realized that sobriety would be possible and that she could live a healthy and fulfilled life despite all that she had gone through.
While at Gateway, Cheryl's days consisted of evidence-based substance abuse treatment, meditation, group discussions and a bit of homework for self-improvement. Each of these activities not only taught her to speak about herself but to also learn about others. Gateway staff, who were willing to speak with her at any hour of the day, helped her develop new habits that replaced the one's she had developed in the outside world. But when she reached a point in treatment where it was time to transition from full-day treatment to half-day, panic set in. Unsure of how she would react to a less structured environment, Cheryl began to apply the skills she had learned at Gateway. As she began attending meetings and speaking with family it became clear that she was ready for life outside of Gateway.
Cheryl has come a long way since receiving treatment at Gateway. A grandmother with a beautiful family, an amazing support system and a new view of life, Cheryl has shared her story with others and has been involved with the Gateway Recovery Community for years.
Today, Cheryl knows there is nothing in her path that she cannot handle.
Reach Out to Gateway Today
Don't wait until it's too late to get addiction help. Reach out to an admissions counselor at Gateway today by calling 877.505.4673.