Jun 1

Addiction

Mental Health Treatment

Teenage Addiction Treatment
Many people perceive loneliness to be a problem that mostly affects older populations. However, a new Cigna study found that Americans, as a whole, are disconnecting from mental health, with adolescents and young adults reporting the highest rates of loneliness.
So what's behind this wave of isolation? While some people blame the younger generations' fixation on social media, the current evidence is inconclusive, in part because social media has only recently become prominent, making it difficult to study its long-term effects.
What is certain is a lack of face-to-face interactions is connected to people's feelings of loneliness.
Teens today spend more time with media than anything else in their lives. Even when they are spending time with other people, many are still using their phones. And studies have shown the more time someone spends on social media platforms and the more social sites they visit, the more likely they identify themselves as socially isolated.
Passively spending time on these platforms and not engaging with others online can also result in feelings of isolation.
A'nna Jurich serves as executive director of Gateway Carbondale, which offers a program for self-esteem-related issues among adolescent girls. Jurich runs through some of the online trends associated with loneliness and mental health:
Cyberbullying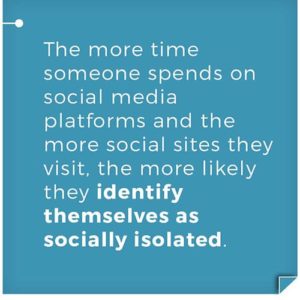 The rise of social media has raised with it concerns about online bullying. According to research, cyberbullying is often related to low self-esteem, suicidal thoughts, frustration, and other emotional problems. Bullying can be dangerous, especially for adolescents who are undergoing a lot of change.
"There are a couple of issues with the social media trend for adolescents: one is that they do not have the ability to disengage from all of the input from others, be it peers or media," Jurich elaborates. "For example, if they are being bullied at school, they go home and log in and, often, the torment continues. They don't have that period of afternoon and overnight to process and disengage from the negative messages."
The Comparison Trap
Social media is a highlight reel and no one sees the daily behind-the-scenes; however, it can be difficult to keep that in mind while scrolling through endless photographs and videos every day.
"Much of what is on social media is not always reality, so kids are often feeling that they need to live up to other's perfect life experiences or appearances," Jurich says. "They don't see the everyday stuff, just the fabulous, and it puts a lot of pressure on them."
FOMO
Also weighing on today's younger generations is the fear of missing out on things, also known as "FOMO." Many people's moods shift after seeing their friends via social media having a good time while they aren't. This trend is particularly common in adolescents and young adults, and it can lead to feelings of loneliness, depression, and anxiety.
Online Community
Although social media facilitate certain issues, good can also come from these platforms.
"I think that social media could be a great way to reach kids who are isolated with symptoms of mental health by educating and starting positive conversations," Jurich says. "Many of them would be more willing to say something online than they are in person. So hearing others' stories and even sharing their own in that venue could be less intimidating and help them to reach out when they need it."
About Gateway
At Gateway, we understand the possible consequences of disconnecting from mental health through social media. Regardless of age, many people who struggle with depression and anti-social behavior often self-medicate with drugs or alcohol. For this reason, we offer Dual Diagnosis Treatment Programs at most of our drug and alcohol rehab center locations. By addressing mental health and addiction issues simultaneously, our professionals can help set patients up for a lifetime of recovery.
To speak with an admissions counselor, call Gateway at 877.505.4673.