Jun 21

Mental Health Treatment

Prevention

Recovery
Now more than ever, TV series and movies have been showing characters coping with mental illness while a growing list of celebrities have been speaking out about their own struggles with mental health disorders, helping to continue the national conversation and to change the stigma of mental health.
Changing the Stigma of Mental Health
Though mental health has long been considered a taboo topic, men, in particular, have had difficulties speaking about their emotions due to long-standing societal norms. Men are much less likely to seek treatment for mental health concerns compared to women. Recently, however, this attitude has shifted. For instance, more male celebrities and athletes have started to speak out about their battles with mental illness.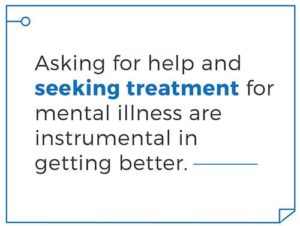 Cleveland Cavaliers star Kevin Love wrote an article in 2018 about his experiences with anxiety, including a panic attack mid-game last year, and urged people to understand the reality and prevalence of mental illness.
Dwayne "The Rock" Johnson, a former athlete and now a popular actor, revealed his past battles with depression during his teen and early adult years. He encouraged men, in particular, to speak to someone and ask for help rather than bottling up their emotions.
Olympic swimmer Michael Phelps has also been open about his struggle with depression and how it almost destroyed his career. Phelps credits therapy for helping him through his depression and, like Love, encourages anyone struggling to visit a therapist.
The Courage to Ask for Help
A common theme throughout these stories is asking for help. Seeing well-known and admired figures reach out for help influences others to seek help for themselves. When major figures speak about their personal experiences with mental illness, the conversation becomes more normalized. Asking for help and seeking the appropriate therapies for mental illness are instrumental in getting better.
Gateway Dual Diagnosis Treatment Centers
If you're looking for a drug and alcohol rehab center in Illinois that can help you start healing, consider Gateway. Our compassionate professionals understand the stigma of mental health conditions. For this reason, we take an integrated, whole-person approach to give clients the best chance of recovery.
It's not enough to simply treat an individual's addiction or mental health condition. Instead, our Dual Diagnosis Treatment Centers take a comprehensive approach to co-occurring disorders, treating them simultaneously to ensure the most successful outcomes.
Our substance misuse treatment programs feature a full continuum of care that includes:
Sober Living and Recovery Home Options
At Gateway, our team of therapists and counselors work with patients to help them understand and treat the underlying causes of their substance use, not just their addiction. For help with mental health-related issues, give Gateway a call now at 877.505.4673.