Feb 14

Addiction

Addiction Therapy

Alcohol Addiction Treatment
Completing your recovery treatment and living out your sober lifestyle are major accomplishments. You're beginning to adapt to your new life and enjoying time with family and friends. Your previous interests and hobbies may not align with your new lifestyle, and searching for activities you can enjoy with loved ones that don't involve drinking alcohol will make the transition to your new lifestyle straightforward.
For some, social lives may center around drinking — but you're ready to move on to new hobbies and pastimes during your sober lifestyle.
You'll find many activities catered towards alcohol for adults, but there is just as many fun and engaging sober activities for people who want to enjoy their days alcohol-free. For people who have recently entered recovery or have been sober for years, finding sober activities can make your weekend plans in Chicago ones to remember.
12 of the Best Sober Activities You Can Do in Chicago
Chicago, also known as the Windy City, is one of the largest cities in the United States and has numerous offerings you would expect from a well-known city. Living in or visiting a large city means there are plenty of fun things to do for every type of person. Whether your interests include art, sports or exercising, there is something for everyone. You'll be pleasantly surprised that many of the best things to do in Chicago can be enjoyed without alcohol.
You and others working towards a sober life will find an abundance of exciting and healthy sober activities in Chicago. Regardless of your age or personal interests, you'll have the opportunity to try out new sober endeavors to enjoy in your free time.
If you're ready to try out new activities and add new sober hobbies into your life, this complete guide for sober activities in Chicago is for you. Check out the 12 best things to do while sober in Chicago and see if they're worth adding to your weekend plans.
1. Get Tickets to a Comedy Club
Chicago is home to a thriving comedy and improv culture. The city is packed with highly-rated comedy club venues and has rightfully earned its reputation as a comedy city. With everything from improv, stand-up, sketch and other forms of comedy shows, you're sure to laugh and enjoy an evening in Chicago.
Any venue or show you attend may showcase the next up-and-coming comedy star, as many well-known comedians start their careers in the Windy City. Get ready to laugh and cheer for hilarious comedians at one of these popular comedy clubs:
The Second City: In Chicago's Old Town neighborhood, you'll find the center of Chicago's comedy culture, The Second City. This venue is known for the big names that had their start in The Second City, like Jason Sudeikis, Amy Poehler and Tina Fey. You can catch a variety of shows or sign up for comedy classes at The Second City Training Center to give comedy a try.
Zanies: If you make your way down the street from The Second City, you'll visit Zanies. This is the original Zanies location, and you'll find numerous autographed photos on the walls of famous comedians who have performed here. The venue provides a close and intimate space for shows, so you'll be close to the acts.
ComedySportz: If you're looking for an energetic and engaging comedy show, check out ComedySportz in Chicago. Watch two groups of comedians battle for laughter and audience approval through various games and activities. This show is suitable for adults, families and teenagers.
2. Watch a Professional Sports Game
Chicago is home to elite sports teams and must-visit stadiums. Catching a game in Chicago is a great pastime for a person of any age. The lively environment of Chicago sports is one you must experience when you're a resident or visiting. Some of the sports you can buy tickets for include:
Football: Head over to historic Soldier Field near Downtown Chicago to watch the Chicago Bears NFL team.
Baseball: Chicago is home to two MLB teams — the Chicago White Sox and the Chicago Cubs. Catch a game during the spring or summer and check out the amazing ballparks. Wrigley Field is home to the Chicago Cubs and is one of the country's oldest baseball stadiums. Guaranteed Rate Field is in Chicago's South Side and is home to the Chicago White Sox.
Basketball: Watch the Chicago Bulls at the United Center. The Chicago Bulls are well-known for their long line of stars, especially their former superstar Michael Jordan.
Hockey: The Chicago Blackhawks share the United Center during the fall and winter seasons. The Blackhawks have brought home the Stanley Cup numerous times and are a must-see in Chicago.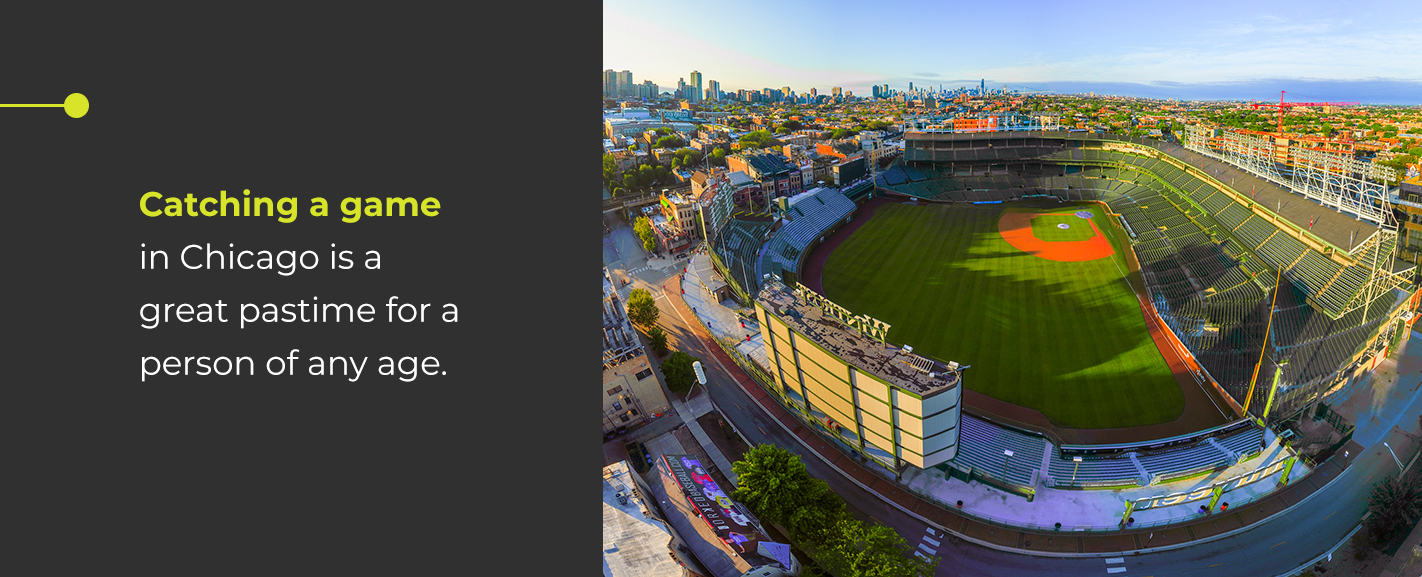 3. Stay Active and Exercise
One of the best activities to include regularly in your routine is exercise. Exercising helps your body release hormones to boost your mood and keep your overall health in check. Chicago is a wonderful city to find fitness facilities and exercise outdoors, like going on a jog by Lake Michigan or in Millennium Park.
If you're looking for unique and fun fitness locations to enjoy a workout class and stay active, try one of these places in Chicago:
Brooklyn Boulders: Are you adventurous and ready to work on your climbing skills? Check out Brooklyn Boulders rock climbing facility in the Lincoln Park or West Loop neighborhoods in Chicago. Visit Brooklyn Boulders to get a workout in or register for classes to enhance your climbing techniques.
AIR: If you want to give aerial fitness a try, head over to AIR in the South Loop and Lincoln Park neighborhoods in Chicago. AIR offers aerial fitness classes that will work your core and tone your body. Choose from four different class levels — Foundation, Core, Flow and AIR.
Chicago Parks: The Chicago Park District includes numerous outdoor recreation areas where you can walk, jog or complete outdoor workouts. Some of the Chicago parks have swimming pools perfect for lap swimming.
4. Visit a Museum
Whether you're interested in art or history, Chicago is home to numerous museums that are the perfect activity for people who are sober. You'll find museums and galleries with topics stretching across numerous genres. Visiting museums and art galleries are a fun way to expand your knowledge and explore more areas of Chicago. Some of the popular museums you can visit include:
The Museum of Contemporary Art Chicago: Take a trip to one of the largest art facilities in the country, the Museum of Contemporary Art Chicago. You'll view thought-provoking programs, exhibitions and performances that feature contemporary art and culture.
The Art Institute of Chicago: Take a look at objects and collections from various cultures and places at the Art Institute of Chicago. You can visit this location in Downtown Chicago.
The National Museum of Puerto Rican Arts & Culture: Visit the National Museum of Puerto Rican Arts & Culture to experience the only self-standing museum in the United States dedicated to presenting Puerto Rican exhibits all year. The museum contains several exhibit spaces, art classrooms and performance spaces to showcase Puerto Rican art and culture.
5. Discover Nature in the Center of Chicago
Chicago's downtown area is massive. Like many major cities, the amount of nature in downtown areas is limited. It's mostly concrete sidewalks and towering buildings lining the city streets, but there is a gem in the center of Chicago that will bring the beauty of nature to Chicago's downtown. Garfield Park Conservatory showcases a lovely botanical conservatory in the middle of Chicago. This is one of the biggest botanical conservatories in the country. The Garfield Park Conservatory contains display gardens and thousands of plant species all in its indoor facility.
Visiting the botanical conservatory is the perfect activity for any age to soak in the beautiful greenery and plants while exploring Chicago's downtown. The Garfield Park Conservatory is open all year, making it a great spot to visit during the cooler months to escape the cold and enjoy the tropical temperatures inside the facility.
6. See a Movie
A favorite pastime of many people is to go to the movie theater and watch the newest releases. Going to the movies and getting a big bucket of popcorn, your favorite soda and some candy is a great activity when you need to make plans. There are plenty of movie theaters across the city you can visit with a friend or family member.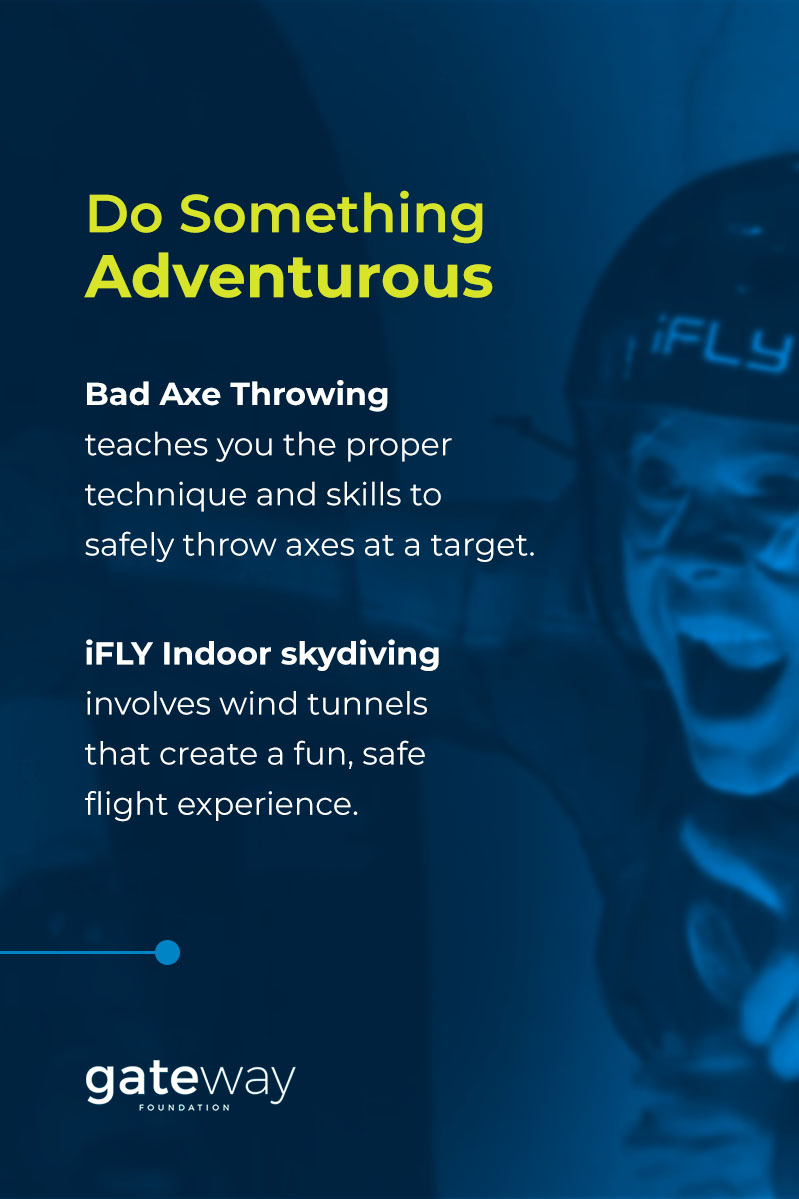 7. Do Something Adventurous
Are you looking for a more adventurous activity to please your wild side? Chicago has various adventurous experiences you can enjoy in your free time. Some of these fun activities include:
Bad Axe Throwing: Enjoy the popular Canadian backyard activity right in Chicago's Lakeview and West Loop neighborhoods. Bad Axe Throwing teaches you the proper technique and skills to safely throw axes at a target. You can enjoy this activity as a walk-in, or they offer group bookings for parties and other celebrations. Leagues can also register at Bad Axe Throwing.
iFLY Indoor Skydiving:iFLY Indoor Skydiving is an amazing spot for an adventure seeker. Indoor skydiving involves wind tunnels that create a fun, safe flight experience. It's a surprisingly inclusive activity where people of various sizes, abilities and ages can enjoy the experience of indoor skydiving.
8. Make a Trip to the Zoo
The Lincoln Park Zoo is one of the most established zoos in the United States. It's free to all guests and has been since it first opened, thanks to donors, zoo members, visitors and a subsidy from the Chicago Park District.
You can meet plenty of animals on your trip to the Lincoln Park Zoo, including animals on the critically endangered list that are no longer living in the wild. It's an incredible place to see hundreds of animals you won't see every day in Chicago. Visiting the zoo is also a great way to get up and move while seeing some of your favorite animals.
9. Visit the Beach
Chicago sits right on the coast of Lake Michigan, one of the many large great lakes in the region. While it's not the ocean, the beaches in Chicago are beautiful outdoor locations to sit back and relax during a sunny day. Three popular beaches you can visit are:
North Avenue Beach: The North Avenue Beach offers activities for everyone, like kayaking, swimming, jet skis, bike rentals, concession stands and vendors. This beach is located near Lincoln Park and north of the Gold Coast Historic District.
Oak Street Beach: Oak Street Beach is located near the Gold Coast and Streeterville neighborhoods in Chicago. You can go swimming, rent chairs, purchase food, rent bikes and play beach volleyball at Oak Street Beach. This beach is well-known because it hosts volleyball tournaments for amateurs and professionals.
Montrose Beach: Montrose Beach is near the Uptown neighborhood and includes a dog-friendly beach on the park's north end. You can enjoy kayak rentals, concession stands and volleyball rentals at Montrose Beach.
10. Shop Around a Street Market
Whether you're looking for tasty food or unique items, one of the many street markets in Chicago is an excellent location to spend the afternoon. One of the most prominent street markets that people in Chicago love to visit and find Latin and Mexican street food is the Maxwell Street Market. You can find handmade crafts, live music performances, resale clothing and home goods.
Some of the other Chicago neighborhoods that host markets include the Logan Square indoor market, the Wicker Park farmer's market and the West Loop farmer's market.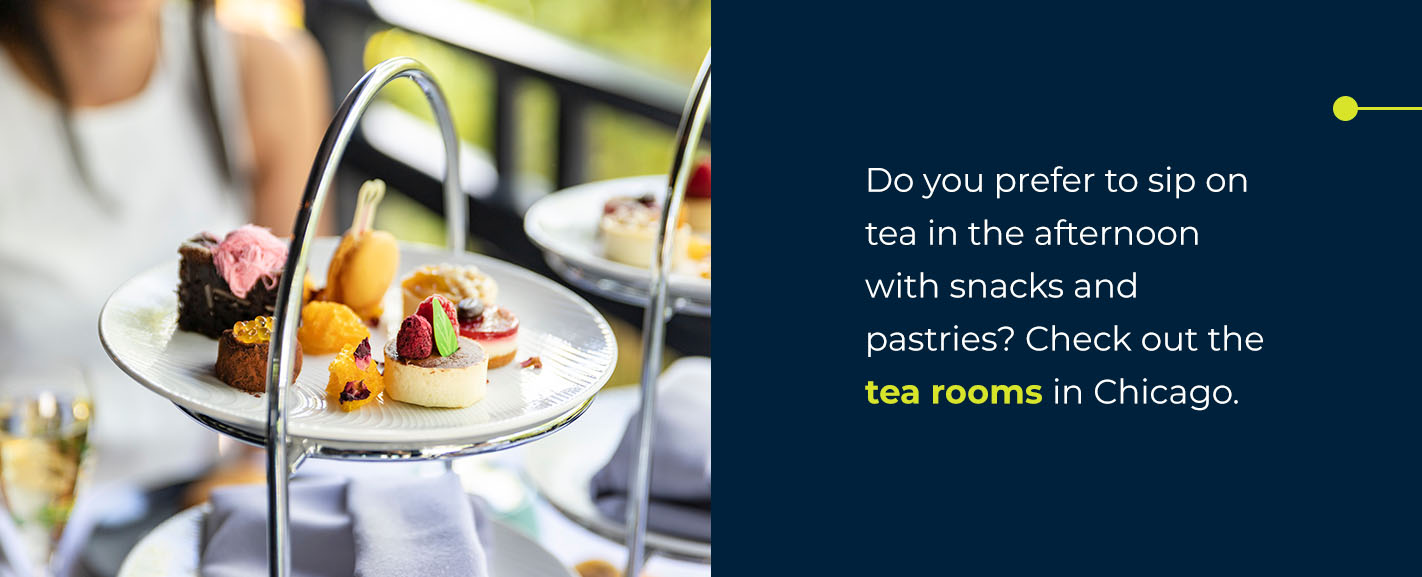 11. Enjoy a Tea Service
Do you prefer to sip on tea in the afternoon with snacks and pastries? Check out one of the many restaurants and tea rooms located in Chicago:
Russian Tea Time: Enjoy an afternoon tea service at Russian Tea Time from Tuesday to Sunday. Taste various desserts and Russian tea in a comfortable and warm environment.
Vanille Patisserie:Vanille Patisserie offers delicious French-inspired desserts, cakes and pastries along with a wonderful afternoon tea.
12. Be a Tourist for the Day
Living in Chicago, you might feel like you know your city, but one of the best things you can do is complete as many tourist activities as possible to get to know more about the Windy City.
You'll get to visit plenty of famous tourist spots in Chicago, including these popular activities:
Take a picture in front of the Bean.
Explore the shops at the Magnificent Mile.
Take an architecture city tour.
Look at Buckingham Fountain, one of the largest fountains in the world.
Contact Gateway Foundation for Help With Sobriety
Finding activities in Chicago that don't involve alcohol is possible when you're trying out new hobbies and looking for new activities. Adapting to life after addiction is achievable with the right resources and a treatment facility that leaves a positive lasting impact. If you're searching for more resources on sobriety or need help, contact Gateway Foundation for more information about alcohol addiction treatment options. We're with you for life after your treatment at one of our facilities in Chicago.