Jun 8

Addiction Therapy

Recovery

Treatment
Gateway Swansea is now officially offering acupuncture every Tuesday evening as part of its regular addiction treatment programming. Dr. Eric Waltemate will provide free acupuncture to every patient who signs up.
What is acupuncture?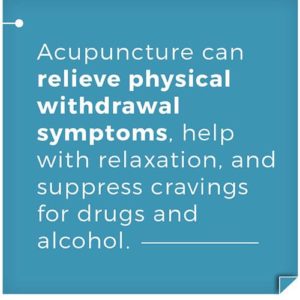 Acupuncture is a traditional Chinese medicine practice that has gained popularity in the United States over the past decade. Historians believe the practice originated in China thousands of years ago. During a session, the acupuncturist pierces the skin with thin needles at specific points of the body. These needles stimulate those specific points to adjust the flow of energy throughout the body.
Along with more traditional therapy methods, professionals also include acupuncture as an alternative and holistic therapy method to treat various physical, mental, and emotional conditions. Moreover, it is a safe and beneficial treatment that is relatively painless.
Why Use Free Acupuncture?
According to the Substance Abuse and Mental Health Services Administration (SAMHSA), "Acupuncture can relieve physical withdrawal symptoms, help with relaxation, and suppress cravings for drugs and alcohol."
In addition, acupuncture has been proven to increase retention in substance abuse treatment. It helps with promoting overall health and well-being. In particular, acupuncture is beneficial with:
Easing physical pain
Regulating emotions
Decreasing anxiety and stress
Regulating sleep
This service is an addition to a new series now being offered every Wednesday during evening and morning groups that covers homeopathic coping skills, including:
Acupuncture
Aromatherapy and essential oils
Nutrition
Exercise (including yoga and tai chi)
More About Gateway
Along with free acupuncture, Gateway specializes in offering evidence-based addiction therapy services to residents in Chicago and beyond. Our licensed therapists and counselors can be your guides on the road to lasting recovery.
Our drug and alcohol treatment centers locations offer the following levels of care:
Aftercare Programs following discharge
Although research proves the efficacy of acupuncture, some individuals in recovery require further stabilization either during or following addiction treatment. For this reason, all of our Gateway rehab centers offer Medication-Assisted Treatment Programs help patients overcome the lingering effects of substance abuse.
To learn more about our free acupuncture session, or for more information on what to expect during addiction treatment, give Gateway a call at 877.505.4673.